Complimentary Couples' Skin Cancer Screening – Feb 9, 2016
Complimentary Couples' Skin Cancer Screening – Feb 9, 2016
THIS EVENT IS FULL. REGISTRATION IS NOW CLOSED.
February 9, 2016
This Valentine's Day special event occurs from 4:30 to 6:00 pm at the SkinCare Physicians office in Chestnut Hill, MA.
Why a Couples' Skin Check-up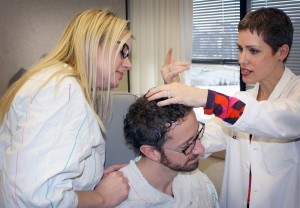 Studies have shown that full skin examinations in a dermatologist's office, with a partner present, can be more effective in teaching individuals what to look for on their self-examinations. Many parts of the body are impossible to examine on your own and some melanomas can arise on these tricky spots such as the top of the head, the back of the ears, the back, the buttocks and the back of the legs. This is why getting your "special someone" involved can help.
Goal
Learn easy skin examination skills with your partner to be able to detect early signs of skin cancer, such as melanoma.
Show Your Love: Reserve Your FREE Couples' Skin Cancer Screening!
This Valentine's Day special event requires an appointment. Call our office at 617-848-1640 to book your Couples' Skin Cancer Screening for you and your partner together, or reserve online.
SkinCare Physicians' board-certified dermatologists will be performing these screenings for you and your partner as part of the American Academy of Dermatology screening program. Friends, family members, spouses or significant others are all eligible to participate to this partner-assisted skin exam event.