Botox® and Dysport®
The advent of Botox® and Dysport® injections has revolutionized the approach to wrinkle treatment. Botox and Dysport injections are quick, relatively straightforward outpatient procedures, with minimal risk. In fact, many patients have now decided to replace more traditional surgical approaches to facial aging with Dysport and Botox. People who live in Boston, MA and surrounding areas visit us to achieve a more youthful appearance in a single 15-minute session with one of our superbly skilled physicians.
Botox and Dysport treatments are useful for improving frown lines, crow's feet, forehead wrinkles, neckbands and ridges, drooping eyebrows, furrows of the upper lip, turned down corners of the mouth and certain other wrinkles by relaxing the muscles so that they appear less noticeable.
If you live in the Boston area and are considering a Botox or Dysport treatment, our team of medical professionals can help you look your best. Our skilled physicians have performed over 15,000 Botox/Dysport procedures. Request a consultation online or contact us at (617) 731-1600 to schedule your appointment.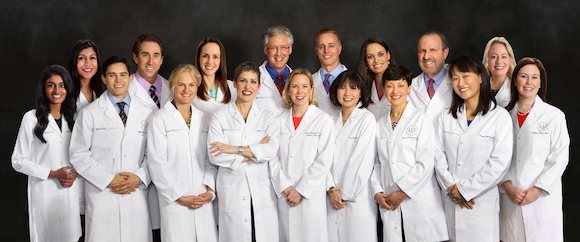 Meet Our Physicians
Services We Offer
Botox is also highly effective in the treatment of hyperhidrosis, or excess sweating, and truly provides us with a revolutionary approach to sweating. Our physicians were among the first in the world to use these proteins for hyperhidrosis and possess the unique skill and knowledge needed to minimize excessive sweating successfully.
Finally, Botox is helpful in many patients with tension or migraine headaches, and can provide months of relief with one simple treatment session.
Before & After Photos of Botox® Treatment
Forehead wrinkle lines
After treatment with
botulinum toxin
Botox and Dysport for Wrinkles
Botox and Dysport are trade names for purified proteins (botulinum toxins) that are used in extremely small doses for certain cosmetic procedures and medical conditions. They are particularly useful for eliminating unwanted lines of facial expression, such as the frown lines between the eyebrows that may persist through repeated, often involuntary action of a muscle called the "corrugator." Botox and Dysport injections are also superb treatments for horizontal forehead creases, crow's feet around the eyes, lines on the upper lip caused by pursing the lips, and down turned corners of the mouth. These treatments also can be combined with injectable fillers for more complete and longer lasting wrinkle correction.
Additional uses of Botox and Dysport include the non-surgical brow lift, where they are used to effect an elevation of the eyebrows, as well as treatment of neck wrinkles and muscular bands. These are remarkable advances in the treatment of the aging face, as previous traditional approaches to eyebrow depression and neck aging have only been invasive surgical procedures.
You can learn more about Botox and Dysport treatments for wrinkles from the answers to these frequently asked questions.
How do Botox and Dysport Work to Improve Lines and Creases?
When you purposefully make a frown, you can feel the corrugator muscle just above the inner part of your eyebrows as a thickening. Injecting Botox or Dysport into a facial muscle weakens the muscle and its associated contractions. By inhibiting contractions of the muscle, and stopping the frequent creasing of the skin, the lines gradually improve and may disappear. Therefore, after Botox and Dysport injections, not only do the lines improve, but the area between the eyebrows can no longer make an unsightly scowl. Forehead lines are caused by contraction of the frontalis muscle, which can be seen when the eyebrows are raised. Squinting produces a gathering of the skin next to the eyes in the crow's feet area, and is caused by a portion of the orbicularis oculi muscles. Neck wrinkles and bands are caused by protruding fibers of the platysma muscle. Each of these muscles is readily visible to the skilled physician, and can be safely injected in a single session.
Are the Effects Lasting?
Treatments with Botox and Dysport take only a few minutes; the results are noticeable in two to five days and peak in seven to ten days. In some patients, the onset of action for Dysport is a few days faster than with Botox. Gradually, over a period of three to five months, the effects of the Botox or Dysport will wear off and the muscles will again be functional. Repeat injections are done as muscle function returns.
Is There Any Danger of Botulism from Botox or Dysport ?
No, it is not possible. Botulism occurs when large amounts of the toxin are ingested into the body, usually from eating contaminated food. The doses we use for cosmetic or medical injections at SkinCare Physicians are on average less than 2% of the maximum you can safely have. There is a tremendous safety margin with both Botox and Dysport.
How Have Botox and Dysport Been Tested, and What are the Side Effects?
Botox has been used since 1980 for treatment of two facial conditions, strabismus (lazy eye) and blepharospasm (uncontrolled eye blinking). It was first used for forehead wrinkles in 1989. Dysport has been studied in Europe since 1988, been used outside the U.S since 1991, has an excellent safety record, and was approved by the U.S. FDA in 2009. Side effects from Botox and Dysport are minimal when they are properly administered by a physician trained in their use. There will be a little discomfort as the solution is injected at the treatment site, and there is a small chance of bruising. There have been no known reports of permanent side effects with Botox or Dysport. In very rare cases, there is a temporary, slight lowering of the eyebrow or eyelid, which often goes unnoticed by the patient.
What Should I Expect After My Treatment?
Immediately after the treatment, there may be a mild amount of redness at the injection site, but this resolves in a few hours. Bruising is very uncommon. We encourage patients to use the muscles more for the first hour after injection to maximize the effects of Botox and Dysport.
Will I Have a Mask-like Appearance or Lose Facial Expression?
The answer is no when the procedure is done properly. Our skilled physicians have performed over 15,000 Botox/Dysport procedures, and have not observed any significant negative alterations in facial motion or expressions. These injections are an art form as much as they are a science. The physicians at SkinCare Physicians are very skilled at muscular shaping with Botox and Dysport, and teach their injection techniques to other dermatologists and plastic surgeons around the world.
Can I Combine Botox and Dysport Treatments With Other Cosmetic Procedures?
Yes, Botox and Dysport treatments can be used successfully and synergistically along with other injectables such as Restylane® and JUVÉDERM®, and other implants and laser procedures.
Exceptional results are possible with advanced treatments and technology.
View Photo Gallery
Exceptional results are possible with advanced treatments and technology.
View Photo Gallery
Botox for Hyperhidrosis
Excess sweating can be an embarrassing problem which may adversely affect social interactions. Many patients who suffer from overactive sweat glands of the palms, underarms, feet, scalp and face, are eager to have their sweating eliminated. Traditional topical or surgical approaches to this uncomfortable problem have not been very effective. Now Botox can be injected directly into the areas of sweating, producing a sweat-free environment for up to six to twelve months at a time.
Botox injections are performed in a simple 15 to 30 minute outpatient session in our state-of-the-art facility. Anesthesia of the area to be treated is sometimes obtained with a topical anesthetic (applied at home a few hours before the procedure) and/or local application of ice. Multiple injections with a tiny needle are carefully performed into the areas of sweating.
The effects of Botox injections begin to be apparent two to three days after the injection session, and last on average six to twelve months. Repeat injection sessions are performed as the initial effect begins to dissipate. Side effects are minimal to non-existent, and include minor bruising and occasional short-term very mild hand weakness (when the palms are treated). Driving and normal activities are generally not affected, and the weakness resolves within two to four weeks.
Botox injections for axillary (underarm), palmar (hand), and facial sweating are amazingly effective, often referred to by our patients as the equivalent of turning off a faucet of dripping and sweating. Our physicians are pioneers in this technique, and possess the experience needed to produce consistently superb results.
---
At SkinCare Physicians, our doctors and staff are highly experienced with performing Botox and Dysport treatments to improve your complexion, help you look years younger, or minimize excess sweating concerns. To get started, request a consultation online.