Laser Skin Resurfacing
Have you wanted to have smoother, more youthful skin, but were reluctant to go through a painful or risky procedure? If so, then the new fractional resurfacing lasers may be the perfect solution. Many men and women can benefit significantly from the removal of brown spots, as well as overall improvement in skin tone and texture including fine to moderately deep lines. Fractionated lasers, in a series of comfortable 20-60 minute outpatient treatments, can achieve all of these goals. Even stubborn acne scars, once nearly impossible to improve, can be effectively treated with these revolutionary lasers.
SkinCare Physicians was one of the first practices in the world to use these exciting technologies and has been instrumental in refining and improving these novel procedures. Now, we are able to significantly improve skin tone, texture, wrinkles, acne scars, and color with easy, comfortable, and minimal-downtime procedures. Our patients have been delighted with their results after undergoing laser skin resurfacing in the Boston area.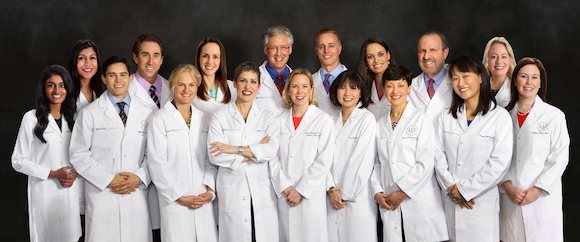 Meet Our Physicians
Services We Offer
Before & After Photos of Laser Skin Resurfacing
| | |
| --- | --- |
| | |
| Photodamage and wrinkling | One month after laser resurfacing |
Advantages of Fractional Laser Treatments
One of the many advantages of the Fraxel Re:store™, Fraxel Dual, Fraxel Repair, Sciton, Pearl, Palomar, DEKA Dot, and Lumenis Encore lasers is the ability to treat the face as well as other areas of the body, including the neck, chest, arms, and hands. Until now, no technology could reliably and safely improve facial skin tone, color, and texture. These lasers have removed that limitation to allow us to enhance your skin for beautiful results.
As a result of these highly advanced laser treatments, your physician can adjust how far the lasers penetrate the skin to find the perfect treatment depth. Your treatment is consequently customized specifically to treat your skin's unique concerns and conditions. The deeper the treatment you have, the longer the healing period. Depending on the amount of sun damage or scarring you have, and the amount of time you are willing to devote to healing, your doctor will help you pick a treatment strategy that is right for you.
Fraxel Re:store Laser and Palomar Fractional 1540
The Fraxel Re:store laser was the first laser to employ this concept of fractional resurfacing. Fractional resurfacing is just as it sounds, affecting only a small fraction of the total surface (ranging anywhere from 15 to 25%) of the treated skin with any one treatment. It is used to improve overall skin color, tone and texture, and is useful for individuals who have sun-induced freckles. It is also effective for improving skin texture, including wrinkles and scars. The Fraxel Re:store laser is one of the best treatment options available for acne scarring.
Patients usually require between 4 to 6 treatments to attain optimal results. Treatments may be performed as often as every 7-10 days, but in most cases they are done 4 weeks apart. After arriving for the procedure, a topical anesthetic gel is applied to the treatment area and allowed to sit for an hour. In addition to the anesthetic gel, we also use a device called the Zimmer Cooler (a hand-held cool air device), which chills the skin and makes the procedure even more comfortable.
There is usually slight stinging of the skin for about one hour following the procedure. Ice can be applied to reduce any discomfort. There is some redness and swelling following the procedure, which lasts an average of 3 days and can be covered with makeup within a day or two. The entire visit lasts about 2 hours.
Fraxel Dual Laser
The Fraxel Dual Laser is an exciting advance in the field of fractional laser therapy. The Fraxel Dual Laser has the unique property of allowing your physician to treat both superficial and deeper skin problems—all with one device. This device operates at a new wavelength of 1927 nm, which makes it a revolutionary wavelength ideal for patients with sun-induced freckles, age spots (lentigines) and other types of hyperpigmentation, superficial wrinkles, and texture irregularities. It is also effective for precancerous lesions such as actinic keratoses. Most patients see excellent results after only 2-3 treatments.
Treatment time is about 15-20 minutes and is preceded by an hour-long application of a topical anesthetic gel. The treatment is accompanied by mild tingling of the skin, which ends immediately after the laser is completed. You will not require any wound care after the treatment. Most patients have a moderate amount of post-procedure swelling, and you will experience peeling of the skin on days 3 to 5. Total recovery time is 5-7 days with only mild discomfort for the first few days. We recommend that patients use ice for swelling and apply a gentle moisturizer to keep skin hydrated.
The Fraxel Dual has revolutionized our approach to many skin conditions. We can now treat wrinkles, pigmentation, and precancerous skin lesions extremely effectively with very little downtime and a superb safety profile.
Fraxel Quick Recovery (FQR)
The most recent breakthrough in skin rejuvenation is Fraxel Quick Recovery, which we call FQR. FQR has the advantage of delivering the same efficacy as traditional Fraxel treatments but with significantly reduced recovery. FQR is performed in a comfortable, one hour visit where our staff can treat wrinkles, texture, uneven pigmentation, and unwanted discoloration and brown spots on the face, neck, chest, and arms. Even stubborn melasma can be treated in many patients. FQR builds upon the tried and true Fraxel laser platform, but uses revolutionary innovations developed at SkinCare Physicians to maintain efficacy while shortening recovery. A series of treatments often produce optimal results, and the rapid recovery from FQR (usually only a day or two) allows patients to more seamlessly fit Fraxel into a busy lifestyle.
Exceptional results are possible with advanced treatments and technology.
View Photo Gallery
Exceptional results are possible with advanced treatments and technology.
View Photo Gallery
Fraxel Re:pair, Lumenis Encore (Active and Deep FX), Palomar 2940, Pearl, and DEKA Dot Lasers
Fractional ablative CO2 laser resurfacing improves the color, texture, and tone of the skin caused by photodamage and acne, in addition to tightening and firming the skin. The laser vaporizes tiny columns of the skin, intentionally leaving islands of normal skin untouched. This reduces the risk of complications associated with traditional CO2 resurfacing and dramatically speeds the healing time.
The specific treatment is selected for you depending on your skin concern. For brown, sun-induced freckling, a more superficial treatment is performed. In cases where we wish to improve skin texture, wrinkles, laxity, and/or acne scarring, a slightly deeper setting is selected. As a result of the gentle ablation of the skin, new collagen is formed which leads to a reduction in fine lines, wrinkles, and improvement in the appearance of acne scars. The ability to tailor the treatments to the individual patient is one of the many advantages of this new technology.
Depending on the extent of skin damage and the patient's desires, one or two treatments are usually required. After arriving for the procedure, photographs will be taken and a topical anesthetic cream applied to the skin.  For your comfort we offer a topical local anesthetic (lidocaine). The entire visit lasts approximately 3 to 4 hours. Immediately following the procedure, the skin will appear red, and you will likely have a mild burning sensation that subsides after an hour or so. You will be asked to do cool soaks using wet gauze and apply Aquaphor Healing Ointment several times a day for 5 to 7 days following the procedure. Mild redness, swelling, and peeling are present for approximately one week.
---
At SkinCare Physicians, our doctors and staff are highly experienced with laser skin treatment to resurface and renew your complexion. Get started when you request a consultation online to come visit with us.