January 6, 2015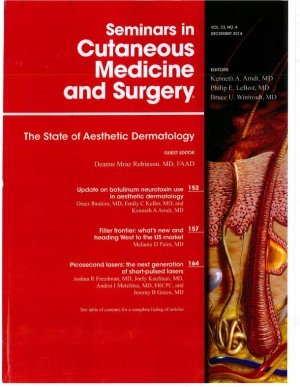 The December issue of the prestigious journal Seminars in Cutaneous Medicine and Surgery has just arrived. It's a wonderful reflection of SkinCare Physicians' Dr. Deanne Robinson's skills and the contributions of many other SkinCare Physicians' dermatologists and Fellow alumni. It continues a tradition of active involvement of SkinCare Physicians in editing and contributing to this journal.
As Guest Editor, Dr. Robinson had to select what topics to discuss, identify potential authors and convince them to write articles. She then had to edit them with the highest quality and in a timely manner!
Many SkinCare Physicians' dermatologists and Fellow alumni contributed as authors or co-authors in this issue, including Drs. Deanne Robinson, Emily Keller, Jeremy Green, Andrei Metelitsa, Laurel Morton, Rachel Pritzker and Kenneth Arndt.
Congratulations to all!