Meet our new Fellows, Drs. J. Watchmaker and C. Gwinn
Meet our new Fellows, Drs. J. Watchmaker and C. Gwinn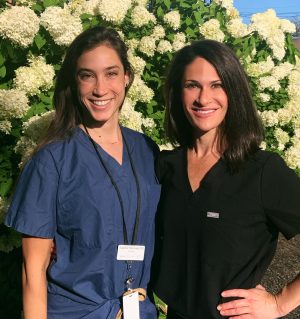 SkinCare Physicians recently extended a warm welcome to two new Fellows, Drs. Jacqueline Watchmaker and Courtney Gwinn. Both board-certified, they will be working with our team for a year to gain further hands-on experience in all aspects of cosmetic and dermatologic surgery, as well as laser medicine.
Jacqueline Watchmaker, MD is our Cosmetic Surgery and Laser Fellow. She grew up in Milwaukee, WI with her four siblings. She attended Emory University in Atlanta, Georgia, where she completed a double major in Dance and Movement Studies and Biology. She then received her MD from Medical College where she graduated AOA. She completed her dermatology residency at Boston Medical Center where she served as chief resident during her final year. At the height of the coronavirus pandemic, Jacqueline quickly responded to the call for residents in her specialty to join the front lines and spent the end of her dermatology residency practicing inpatient medicine. In her free time Jacqueline enjoys spending time with friends and family, going to barre class, playing tennis and cooking. She is incredibly grateful for the opportunity to join the SkinCare Physicians family and is looking forward to an amazing year.
Courtney Gwinn, MD is our Mohs Micrographic Surgery and Cutaneous Oncology Fellow. She grew up in Pocatello, Idaho with her 3 brothers. She completed her undergraduate degree in biochemistry with a minor in music (harp performance) at the University of Utah graduating with honors. She went on to medical school at the University of Washington School of Medicine receiving AOA designation and the Gold Humanism award. During medical school, Courtney served on the Idaho Medical Association Board of Trustees as a liaison for the WWAMI program and medical education. She completed her internship in Internal Medicine and Dermatology residency at the University of Washington in Seattle, WA. She is passionate about dermatologic surgery, high risk non-melanoma and melanoma skin cancer, cosmetic and procedural dermatology, and has volunteered throughout her studies to provide care to underserved populations. In her spare time, Courtney enjoys backcountry skiing, playing the harp, attempting to make the perfect macaron, hiking, water-skiing, running, and spending time with her loving family. Courtney is looking forward to learning from the incredible providers, staff, and patients at SkinCare Physicians this year.