October 5, 2015
Introducing SkinCare Physicians' MORNING MUST-HAVE BUNDLE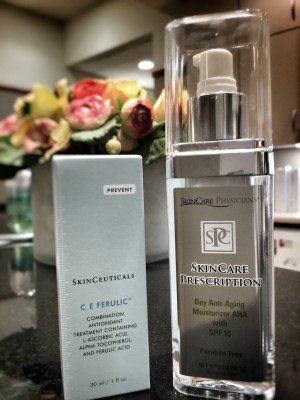 This bundle is the morning skin care regimen of choice at our practice to combat sun damage and pollution. It consists of:
1- SkinCare Prescription Day Anti-Aging Moisturizer AHA SPF 15 – recently improved:
Packs several important ingredients into one highly effective lotion
Contains a daily use sunscreen
Contains a glycolic acid, which is known to improve the appearance of fine lines and wrinkles
Offers a revolutionary antioxidant combination
Delivers advanced environmental protection against photoaging by neutralizing free radicals, which can accelerate the appearance of aging
By using both a daily moisturizer with sunscreen and an antioxidant formula, your skin gets over eight times the natural photoprotection against free radical formation and sun damage, while preventing fine lines and wrinkles.
To purchase the Morning Must-Have bundle, call 1-617-848-1630. The special price of $199 (a $23 saving) ends October 31, 2015.
Bounce back into a new skin care routine with dual protection!