Meet our new Fellows, Drs. Nicole Salame and John Peters
Meet our new Fellows, Drs. Nicole Salame and John Peters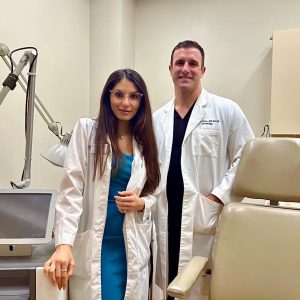 SkinCare Physicians is extending a warm welcome to our 2023/2024 fellows, Dr. Nicole Salame and Dr. John Peters, both board-certified dermatologists. They will be working with us to gain hands-on experience in all aspects of cosmetic and dermatologic surgery, as well as laser medicine. We look forward to a rich educational year and to their valuable contributions to our practice and research.
Nicole Salame, MD
Born and raised in Los Angeles, Dr. Nicole Salame attended UCLA where she majored in International Development Studies and Public Health, graduating Cum Laude with honorary induction into the Phi Beta Kappa National Honors Society. She went on to receive her MD from UC Irvine, where she was inducted into the Alpha Omega Alpha (AOA) Honor Medical Society. Following her internship in internal medicine at the Harbor-UCLA, she moved to the South to complete her dermatology residency at Emory University, where she served as Chief Resident. After residency, Dr. Salame made her way to the beautiful Northeast to serve as our Cosmetic Dermatologic Surgery Fellow. She is grateful to learn from experts and pioneers in the field of cosmetics and dermatologic surgery. Dr. Salame's research and clinical interests include lasers and energy-based devices, biostimulation and rejuvenation, body contouring, and regenerative medicine. In her free time, she enjoys hiking, cycling, scuba diving, hot yoga, wine tasting, traveling, photography, and spending time with her fiancé, family, and dog, Charlie.
John Peters, MD
A native of Pennsylvania, Dr. Peters attended Union College in Schenectady, NY where he graduated Summa Cum Laude and was elected to the Phi Beta Kappa Honor Society. He earned his Doctorate in Medicine (M.D.) from Jefferson Medical College in Philadelphia, PA where he was elected to the Alpha Omega Alpha (AOA) Honor Medical Society. His journey continued with service in the U.S. Navy, completing an internal medicine internship at Walter Reed National Military Medical Center. He then earned the coveted "wings of gold" as a Naval Flight Surgeon at Naval Air Station Pensacola and joined the esteemed VMM-262 "The World-Famous Flying Tigers" in Okinawa, Japan. Operational roles included exercises in the Philippines and South Korea, and deployments with the 31st Marine Expeditionary Unit, overseeing 3000 personnel aboard USS Bonhomme Richard. Resuming postgraduate training, he completed a dermatology residency at Naval Medical Center San Diego where he served as Chief Resident. Upon graduation, Dr. Peters joined Naval Medical Center Portsmouth, VA where he served as Chairman of Dermatology and Assistant Professor of Dermatology through the F. Edward Hébert School of Medicine at Uniformed Services University of Health Sciences. Off-duty, he enjoys all sports, scuba diving, hiking, and family time with his wife, Samantha, and son, Charles.