Welcome to our new fellows, Drs. Inda, Hagstrom and Labadie
Welcome to our new fellows, Drs. Inda, Hagstrom and Labadie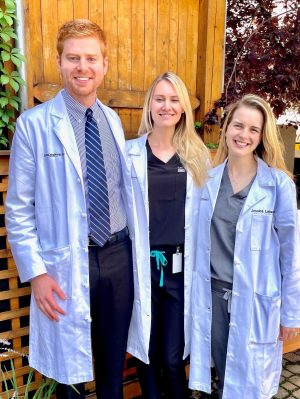 SkinCare Physicians is extending a warm welcome to this year's new fellows, Drs. Jacob Inda, Erika Hagstrom and Jessica Labadie! They will work with our team to gain hands-on experience in all aspects of cosmetic and dermatologic surgery, and laser medicine.
Jacob Inda, MD
Originally from Wisconsin, Dr. Jacob Inda completed his undergraduate education at the University of Minnesota, Twin Cities. He received a full-tuition merit scholarship to attend medical school at the University of Wisconsin, where he obtained his M.D. degree. He subsequently completed his dermatology residency at Mayo Clinic in Rochester, MN. Following graduation, he practiced as a board-certified dermatologist within the Mayo Clinic Health System before starting his fellowship with us. His clinical interests include both general and cosmetic dermatology. Outside of work, Dr. Inda enjoys running and exploring the food scene here in Boston. He is also a football fan who has been on the waitlist for Green Bay Packers season tickets for over 30 years!
Erika Hagstrom, MD
Dr. Erika Hagstrom grew up in Minnesota. Following her undergraduate education at the University of Notre Dame, she obtained her M.D. and M.A. in Bioethics and Health Policy at Loyola University of Chicago. She then went on to complete a Clinical Research Fellowship at Northwestern University. The following year, she moved to Oregon for her dermatology residency at Oregon Health and Science University where she served as chief resident. Her interests include skin cancer surgery, reconstruction, laser and cosmetic surgery, and scar revision. In her free time, Dr. Hagstrom enjoys golfing, running, and cheering on Notre Dame football.
Jessica Labadie, MD
Born and raised in Rhode Island, Dr. Jessica Labadie graduated with honors from Brown University where she earned a B.S. degree in Neuroscience. She then went on to obtain her M.D. degree at the University of California, Irvine. In medical school she was elected to the Alpha Omega Alpha (AOA) honor society and graduated with distinction in research, leadership and service. She recently completed her Dermatology residency at Northwestern University in Chicago where she served as chief resident. Her research interests include the medical applications of energy-based and cosmetic therapies, vulvar dermatology and women's health. In her spare time, she stays active and enjoys exploring New England with her husband, daughter and mini-Goldendoodle. She is grateful for the opportunity to learn from the entire SkinCare Physicians team and patients, and is looking forward to an amazing year.