Starting skin care treatments: When is too-early too early?
Starting skin care treatments: When is too-early too early?
"Is it too early?" is a question often asked by someone considering a procedure to enhance their skin appearance, such as starting to use Botox or Dysport, have a filler injection, or receive a light or laser treatment. My feeling is that it is almost NEVER "too-early".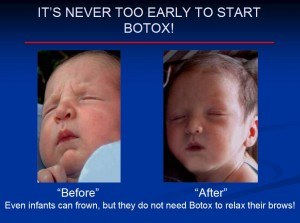 The etched-in lines emerging over time on the face are caused by the repeated contraction of the muscles that are involved with facial expression. These contractions eventually form frown lines, horizontal forehead lines, and "crow's feet".
If the facial muscles are slowed down or relaxed, and not constantly working, then the  lines on the face that are interpreted as aging, tiredness or anger, simply never form in the first place. It's easier to prevent the lines than try to reverse them once they're there! Initiating treatment with a neuromodulator like Botox or Dysport, earlier in  life, such as in the 20's or 30's, will have a dramatic effect on the appearance of the face as seen in the 40s or 50s.
The same applies to the effect of injecting soft tissue augmentation fillers into the skin. Placement of these substances below facial folds and wrinkles not only smoothes the skin and improves facial contours, but actually stimulates biologic processes that induce new connective tissue of your own, which will last much longer than the filler that was injected. The more that fillers are used, the less often they will be needed,  and sometimes, their continued use becomes not necessary at all.
The same is true of intermittent exposure to energy sources such as intense pulsed light or fractional lasers. While these benign treatments diminish ultraviolet light-induced freckling and redness, or fine lines, they too stimulate changes in the underlying skin that bring about long lasting improvement in skin health and may even lower the number of atypical cells that eventually lead to skin cancers.
So there really isn't a time that's "too early"!  Initiating conservative use of neuromodulators, fillers, and other types on noninvasive energy-based treatment, alone or in combination, should keep you looking young and healthy almost indefinitely, and your skin will be better off too!
Find Dr. Arndt on Google+