At risk for melanoma? Remember your ABCDEs
At risk for melanoma? Remember your ABCDEs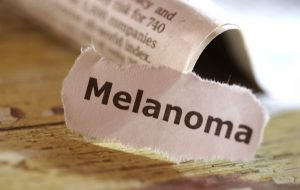 Melanoma is a very serious form of skin cancer, but the good news is that survival rates are high if it is detected and treated early. To help her patients to detect melanoma, Boston dermatologist Dr. Tania Phillips gives them a simple list of questions to answer and asks them to remember their ABCDEs.
Are you at risk for melanoma?
If you answer YES to one or more of the following questions, you might be more likely to develop melanoma and we recommend that you get your skin examined regularly by a dermatologist. However, it does not mean that you will get melanoma.
Do you have fair or freckled skin, red or blonde hair and Blue eyes?
Do you tend to burn in the sun?
Have you had blistering sunburns in childhood?
Have you been exposed to ultraviolet radiation, including sunlight, tanning beds or sun lamps?
Did you have blistering sunburns in childhood?
Do you have moles that have unusual shape or color?
Do you have more than 50 moles on your body?
Does anyone in your family have a history of skin cancer or melanoma?
Have you ever had a skin cancer or melanoma?
How to spot melanoma
While doing a self-skin exam, look for signs of melanoma using the ABCDE method below. If you see one or more, make an appointment with your dermatologist.
A= Asymmetry – One half of the mole is different to the other half
 B= Border – The edges of the mole are irregular or uneven
  C= Color – The mole is unevenly colored
  D= Diameter – Diameter is larger than 6mm or the end of a pencil eraser
 E= Evolution – The mole has changed in size shape or color, or a new mole develops

Images reprinted with the permission of the American Academy of Dermatology. Copyright ©2016
If you are concerned about the appearance of your moles, or have risk factors for melanoma, don't delay. Get your skin checked by a dermatologist. It could save your life!