Hives – A skin condition you've almost certainly had, but know little about
Hives – A skin condition you've almost certainly had, but know little about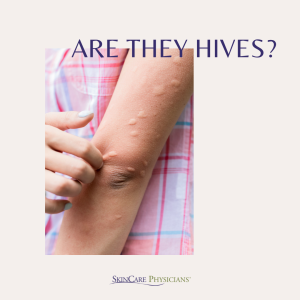 Hives are a common skin condition, and yet dermatologist Laurel Morton finds that patients in her clinic near Boston are often unfamiliar with how to spot them. A bit of basic education can make you a more observant patient and help us get you back to normal more quickly – read up!
What makes hives unique?
Hives are a temporary red or pink bumpy rash occurring anywhere on the body. Often the rash appears as large welts, which are generally very itchy. Unlike other skin rashes, hives do not stay in one spot – new welts often appear and disappear within a 24-hour period, but, overall, the condition can persist for days, weeks, or even longer.
In rare cases, hives are associated with difficulty breathing or swallowing. If this occurs, you may be experiencing a severe allergic reaction, and it is advised that you seek emergency medical care!
What causes hives?
Hives are brought on by an excess of histamine in the body, which occurs when your immune system recognizes something foreign. Often, this reaction is due to an allergy, but not always.
The most common causes of hives are short-lived infections, such as viral infections, or new medications, such as antibiotics. These hives often go away on their own in less than 6 weeks without any treatment. Hives that last longer than 6 weeks may be more likely due to non-allergic causes.
So what caused MY hives?
Because there are many potential causes of hives, Dr. Laurel Morton recommends that her patients take a five step approach:
Step 1 – Consider new medications, if you're taking some. This can point to a drug allergy as the cause.
Step 2 – Consider whether you've had any other symptoms of illness, such as a cough, stuffy nose or fever. This can point to an infection as the cause.
Step 3 – Consider whether you've been exposed to any new contact allergens, such as latex (found in some gloves or tapes), or foods (shellfish and nuts are common causes, and children often also experience sensitivity to soy, wheat and eggs). These triggers usually result in hives appearing within minutes.
Step 4 – Consider environmental triggers such as pressure on the skin or exposure to cold. Some individuals can even develop hives in response to every day exposure to sun, water or exercise. Hives from these causes tend to be much less common.
Step 5 – If none of the above fit what you're experiencing, an even rarer cause may be in play.
If I think I have hives, what should I do?
If you are not experiencing any other symptoms, such as difficulty breathing or throat swelling, your hives are most likely limited to your skin and short-lived. If they are mild, you can try treating them with over the counter oral anti-histamines such as Benadryl or Zyrtec. Be careful as these medications sometimes cause drowsiness.
If hives are a new problem for you, contacting your primary care physician or dermatologist may help you figure out if hives is the correct diagnosis.
If your hives are new and associated with difficulty breathing, throat or mouth swelling or dizziness, you should seek out emergent medical attention as anaphylaxis, a severe allergic reaction, may need to be treated more aggressively.
If your hives last longer than 6 weeks, dermatologists will sometimes perform other laboratory testing to look for underlying causes if a trigger has not been identified. We also combine different anti-histamines to help control the hives better. There is a new prescription medication called omalizumab, which is occasionally used for chronic hives for which no trigger can be identified.
We hope that these guidelines will help you identify hives and their cause and result in better skin health! Feel free to contact our dermatologists at SkinCare Physicians near Boston with any additional questions or concerns about hives.