Four tools to talk about skin issues and treatments with our children
Four tools to talk about skin issues and treatments with our children
As a mother of three young children and a dermatologist in the Boston area at Skincare Physicians, I know first-hand the difficulties in helping our children understand skin issues and treatments. To help facilitate our conversations about diagnoses and treatments with our kids, I found several tools to consider and explore.
#1 The Eczema App
This app allows parents and older children to record and track eczema flare-ups, take notes about flares and treatments, and take and store pictures of flared areas.  It's an effective tool that allows children to better communicate with their parents and doctor about their eczema and current treatments. Also, the app provides updates from the National Eczema Association and further information about eczema based by age, including infant, toddler, kid, teen, and adult.
This story is geared towards young children about a boy, Sam, who has a red facial birthmark. The story was written by parents, Martha and Grant Griffin after their son Barron, was born with a port wine stain birthmark on his face.  Sam's Birthmark is a great resource to facilitate conversation with children on embracing and respecting the unique characteristics we all possess.  Sam's Birthmark is available for purchase in PDF and hard copy form at http://www.samsbirthmark.com/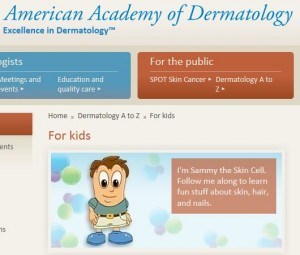 #3 American Academy of Dermatology, Dermatology A-Z, For Kids
The American Academy of Dermatology's website is a wonderful resource for children and parents to explore. It has text and pictures covering a wide range of topics from skin and hair care, to what causes warts, to a skin dictionary of skin related medical terms with clear definitions. This is a great resource to help empower children to understand their bodies, skin conditions, and treatments.

#4 Teen Tanners, the New Faces of Melanoma, Skin Cancer Foundation
The Skin Cancer  Foundation's website is a candid, first-hand collection of stories from three young women, their tanning histories, and their battles with melanoma, the deadliest form of skin cancer. The frankness of their stories, coupled with facts about tanning and melanoma are a poignant resource to help initiate conversations with teens about skin safety.
At SkinCare Physicians, we are pleased to help take care of your children and family. Please consider booking an appointment to discuss your children's skin care needs and treatments.