New therapies address scalp psoriasis with more success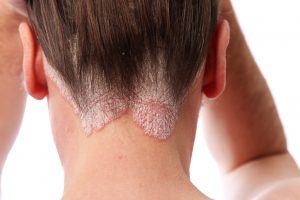 Psoriasis is a common and incurable skin disorder that is characterized by red raised scaly lesions that can occur anywhere on the body. One of the most frequent, and often distressing, locations is on the scalp.   Common symptoms include intractable itch, burning, pain and excessive shedding of flaky skin.  Historically, addressing scalp psoriasis has been very challenging, as it seems to be more treatment resistant than psoriasis affecting other areas of the body.  But fortunately, recent research has identified a number of more successful therapeutic options.
A majority of patients benefit from prescription topical solutions, oils or gels, but success over time is hindered by complicated treatment regimens and/or unpleasant messy preparations. Modern strategies now simplify routines and/or use non-greasy formulations.  Examples include taclonex solution (bethamethasone dipropionate/calcipotriene), which is used once daily.  In clinical trials, 70% of patients achieved clear or almost clear scalp psoriasis by week 8.  Another advance is Olux foam (clobetasol), which is a fast absorbing and non-messy product used twice a day.  63% achieve success by 2 weeks of treatment.
For those with severe scalp psoriasis who do not respond to topical treatments, or patients with widespread psoriasis that also include the scalp, systemic therapies have shown to be highly effective. Examples include the oral medication Otezla (apremilast), where 40% of patients with scalp involvement achieved a successful outcome after 12 weeks of therapy.    Clinical studies reveal even higher success rates using biologic therapies, such as Enbrel (etanercept), Humira (adalimumab), Remicade (infliximab), Stelara (ustekinumab), Cosentyx (secukinumab) and Taltz (ixekizumab) with success rates for scalp psoriasis in up to 75% of subjects by week 12.
The treatment of psoriasis has progressed exponentially just in the last decade, with researchers at SkinCare Physicians leading the way. If you suffer from this life-altering skin disease, find out what solutions are now possible by consulting with our skilled staff at the Psoriasis Treatment Center at SkinCare Physicians.
You may also like: