Novel therapy takes clearance of psoriasis to new heights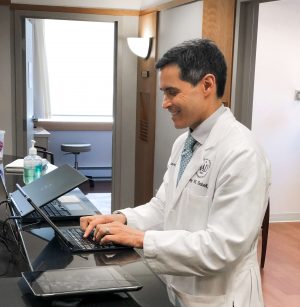 Over the last 2 decades, SkinCare Physicians' Dr. Jeff Sobell has experienced a progression in innovative therapies for psoriasis. Now, with the recent approval of Skyrizi (rizankizumab-rkaa), a biologic indicated for the treatment of moderate-to-severe plaque psoriasis, this progress continues.
Skyrizi belongs to an exciting new class of medications called IL-23 inhibitors. These medications, given by subcutaneous injection, have gained in popularity as they offer patients the chance for high efficacy with favorable tolerability.
In clinical trials with Skyrizi, the average patient's psoriasis improved by over 50% after 1 dose, and over 90% after 2 doses. At one year after 4 doses, with one injection every 3 months, the average patient's psoriasis was 95% clear. Not only did Skyrizi address the redness, scale and thick appearance of psoriasis, but it also relieved the symptoms of itching, burning and pain frequently associated with the skin disease.
Before & After Photos Plaque Psoriasis Treated with Skyrizi
| | | |
| --- | --- | --- |
| | | |
| Before Skyrizi treatment | At 4 weeks of treatment | At 16 weeks of treatment |
Overall the medication was well tolerated by patients in the investigational studies.  Common side effects included upper respiratory tract infections, headache and fatigue.  As with most biologic therapies, testing for past exposure to tuberculosis is required before starting therapy.
If you suffer from psoriasis, it's time to contact SkinCare Physicians' Psoriasis Treatment Center. Skyrizi is an example of the innovative and effective treatments available at our practice. Our dermatologists are proud to provide our psoriasis patients with the very best care possible.