How to care for your hands during the coronavirus crisis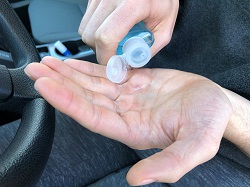 Life as we know it is changing daily. As we hunker down at home to flatten the curve and limit the spread of COVID-19, one thing that hasn't changed and won't change in the near future, is frequent handwashing, or hand sanitizing. But do you know how to properly sanitize your hands? Dr. Mitalee Christman shares her hand sanitizing tips, plus a few other recommendations to help us stay safe and care for our hands.
Washing is always preferable to sanitizing, but sometimes a sink isn't available. If you have to sanitize, it's worth taking a minute to ensure you are using your hand sanitizer correctly:  Pump it into your palms, and rub, covering all of each hand, including the webspaces (areas between your fingers), around the fingertips and nails. Rub for about 20 seconds (conveniently the same amount of time you need to handwash), until the hand sanitizer is completely dry. If you find yourself waving or flapping your hands to dry them, you're not rubbing long enough. Rub until dry!
What else needs to change during the coronavirus crisis?
Dr. Mitalee Christman has these additional recommendations:
Keep your nails trimmed short and polish-free – long or artificial nails with cracked polish present crevices that are a veritable petri dish.
Wear your hair up and out of the way.
Wear glasses instead of contact lenses for additional droplet protection – if you wear glasses, remember to disinfect these too as they are very touchable! I aim to disinfect my glasses and phone (my third hand) a couple times a day with a bleach wipe.
Try to remove your hand jewelry during these weeks of frequent hand washing. Soap, water and sanitizer may linger under your rings, setting you up for an irritant dermatitis.
She refers to these recommendations as her #covidlook: trimmed nails, hair up, glasses instead of contacts, no hand jewelry!
What should you do if your hands get irritated?
Dr. Christman finds an irritant dermatitis often begins in places that miss rinsing and drying, like the webspaces and under rings. If you notice itching, scaling, tightness or dryness in these areas, a hand cream can help. Make it fragrance-free – you don't want to compound the problem with sensitizing ingredients. At night, try a liberal amount of hand cream under white cotton gloves to help it really penetrate the skin. If this fails, a steroid cream from your dermatologist will heal you right up.
Stay safe and stay home, and we will see you when we are back.