How to prevent poison ivy rash, a springtime curse
Goodbye winter, spring has finally arrived! For many, that means getting back outdoors. But if your activity includes hiking, camping or gardening, beware! Poison ivy season is upon us as well.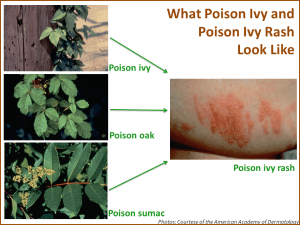 Poison ivy, poison oak and poison sumac all contain an oil called urushiol that can cause an uncomfortable allergic rash in 85% of people. The itchy blistering rash, often appearing in streaks or lines, occurs 12-72 hours after skin contact with the oil. Springtime is the most common season, although the possibility of exposure continues well into the summer and fall.
Tips to prevent the poison ivy rash
1) Avoid direct contact with the plants
Remember: leaves of three, let them be! Any part of the plant may contain urushiol, including stems, vines and leaves.
Wear long sleeves, long pants and gloves.
2) Be cautious of indirect contact
Touching anything that has urushiol on it can cause the rash. Common sources include pet fur (only humans get the rash), gardening tools, and sports equipment.
Burning these plants sends urushiol into the air which may land on the skin causing the rash.
3) Consider using preventative creams
Barrier creams containing bentoquantam (i.e., Ivy Block®) may be helpful if applied prior to exposure.
Neutralizing creams such as Technu ® may inactivate urushiol on the skin if applied quickly after oil contact.
4) Wash or take a shower as quickly as you can after contact
If done within 5 minutes, the majority of the urushiol will be removed.
If done after 30 minutes, most will not come off.
Tips to relieve the poison ivy itch
1) Lukewarm baths in a colloidal oatmeal preparation (i.e., Aveeno®)
2) Calamine lotion
3) Short cool showers
4) Cool compresses to involved skin
5) Antihistamine pills (i.e., diphenhydramine (Benadryl®), cetirizine (Zyrtec®))
For more serious reactions, see a dermatologist at SkinCare Physicians. Possible prescription treatments include:
Potent cortisone creams applied to the affected skin
Oral cortisone pills for very severe reactions
Antibiotic creams or pills if bacteria infect the lesions
We at SkinCare Physicians in Boston wish you a very happy spring, free of itch!