Keep your skin hydrated with SkinCare Physicians' favorite facial mask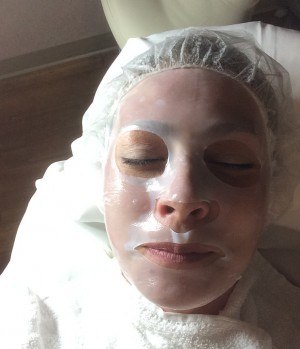 Cosmetic treatments, such as Fraxel, Clear + Brilliant, Glycolic peels, and Microneedling do wonders for the skin. Although patients love these treatments, sometimes their "stressed" skin is craving for an extra boost following the procedure. One way to help the skin to bounce back is by using SkinCeuticals Biocellulose Restorative Masque, which reduces heat sensation caused by these treatments and provides immediate relief.
Optimal for sensitive or stressed skin, this highly efficient, supple, sterilized mask creates a protective barrier that aids in alleviating discomfort. Its unique fibers distribute water to the skin barrier, providing immediate heat relief to compromised skin. The mask has been clinically tested on stressed skin following laser treatments and peels, and can be used as a bi-weekly replenishing treatment.
The Biocellulose Restorative Masque is effective not only post-cosmetic treatments, but also on dehydrated skin after long days spent traveling or at the beach. I have recently experienced its benefits as well as Andrea, another SkinCare Physicians' employee.
I was hooked after receiving the mask during a Dermaplaning treatment. My sensitive skin was quite red after the procedure, and this mask took away essentially all of the redness. Therefore, packing this mask for the Fourth of July weekend was a must for me. It cooled and soothed my skin after three long days at the beach.
Andrea's week long vacation spent at the beach and exploring the outdoors left her skin dehydrated. The Biocellulose Restorative Masque was "just what the doctor ordered," as her skin felt "hydrated and refreshed" after using it. She since has added it to her skincare routine!
Pamper your skin at home with SkinCare Physicians' favorite calming mask. Stop by our new SkinCare Boutique to purchase it.
Note: This post is not sponsored by SkinCeuticals.