A safe neuromodulator that lasts 6 months!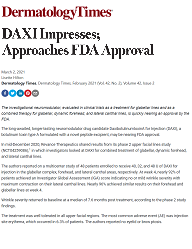 A safe neuromodulator that lasts 6 months is dream that's closer to come true. The approved ones last 3 months.
Results of Revance's DAXI neurotoxin study on frown lines, forehead lines and crow's-feet, show evidence of longer lasting results without sacrificing safety, according to our own Dr. Jeffrey Dover who led the phase 2 study at SkinCare Research. Dr. Dover said to Dermatology Times that "Revance neuromodulator produces an impressive effect on lines of negative facial expression and lasts longer than any of the other neuromodulators approved by the FDA thus far." "The median duration […] was 24 weeks. If approved, [he believes] daxibotulinumtoxinA will change the landscape of neuromodulators significantly."
Such a long lasting neurotoxin that doesn't sacrifice safety, remains the holy grail of neuromodulators and will be a definite plus for many of our patients !
Read the full article in Dermatology Times: DAXI impresses; approaches FDA approval