AviClear, a new breakthrough in the treatment of acne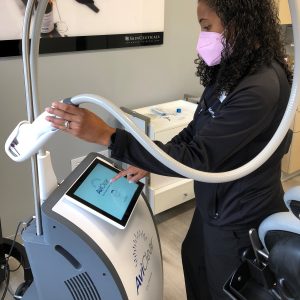 Acne is the most common skin condition affecting as many as 80% of Americans during their lifetime. It's most often thought of as a condition of adolescence, but it's remarkable just how many women and some men in their 20s, 30s and beyond suffer from continued outbreaks. While our dermatologists have seen improvements in the treatment of acne over the last decades, with the development of topical tretinoin, benzoyl peroxide, topical antibiotics, oral antibiotics, hormonal therapy, and Accutane, many of our patients are still not happy with the options available. They desire effective natural treatments with no side effects. With the breakthrough AviClear laser, we now have a medication-free option to treat their acne at SkinCare Physicians near Boston.
A laser treatment targeting acne at its source
A newly FDA-cleared device, the 1726 nanometer AviClear laser offers patients a safe, drug-free approach to the treatment of acne. AviClear targets one of the leading causes of acne by suppressing sebum production from sebaceous glands.
An acne treatment with encouraging results
After just three monthly, well-tolerated, full-face treatments, 80% of subjects in the clinical trials had at least 50% clearing of moderate to severe acne. Three months later, or six months after their last treatment 88% subjects had at least 50% clearing of their acne. Recent early information from studies done by SkinCare Physicians suggests that the device may also help skin texture and acne scarring.


Photos courtesy of Cutera
An acne treatment with little to no side-effects
Best of all, there were almost no side effects reported during the clinical trials. Other than a bit of redness around pimples which was very short-lived, and occasional acne flares, there is no swelling, blistering, scabbing or patches of redness. Additionally, because AviClear is a laser/light treatment, there are no systemic side effects like there are with antibiotics and especially with Accutane.
A promising alternative to current acne treatments
More studies will need to be done in larger groups to assess just how effective this treatment is. We will also want to see how durable the results are. Most acne treatments work only as long as they are used. Accutane gives prolong benefit and sometimes cures acne, but the side effect precludes its use in many individuals. The new sebum-targeting AviClear laser doesn't have those potential side effects and may produce long-lasting results in individuals with moderate to severe acne.
The prescription-free AviClear laser has the potential to significantly shift the treatment paradigm for acne. Schedule a consultation with one of our board-certified dermatologists to find out if AviClear might be the right treatment for your acne.
YOU MAY ALSO LIKE:
Topical acne treatments: what's new?
Can diet affect acne?
What you should know about acne treatments during pregnancy