10 SkinCare Physicians' providers named 2019 Boston Best Doctors
10 SkinCare Physicians' providers named 2019 Boston Best Doctors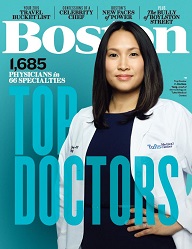 The much-awaited Boston Magazine's 2019 Top Doctors list reveals that nearly a quarter of the best dermatologists around Boston are right here at SkinCare Physicians! As in many years past, the vast majority of our physicians are recognized as being "Top Doctors" in their field: Nine of our physicians are listed among the 40 best dermatologists in the Boston area, and our oculoplastic surgeon is acknowledged as a top ophthalmologist.
It is gratifying to see so many of our physicians recognized and appreciated for the expertise and skilled dermatology care with which they treat every patient. Our doctors are recognized by Boston Magazine year after year, and this would not be possible without the exceptional work of our nurses, clinical staff, and administrative staff who assist our doctors and patients each and every day.
Congratulations to all the physicians who were selected!
View the list of Boston Top Dermatologists.