Topical acne treatments: what's new?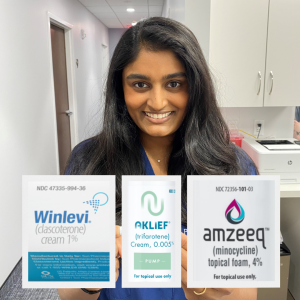 Acne is one of the most common skin conditions that affect our patients. Actually 40-50 million people suffer from acne annually in the US. As dermatologists, we evaluate and treat patients with acne in the Boston area multiple times a day. Fortunately, we have many effective acne treatments at our disposal, including three recently-launched topical ones. Dr. Prasanthi Kandula, who has used these innovative acne treatments with good results, shares how they differ from existing ones.
A quick overview of acne and common treatments
Acne is commonly thought of as a problem in adolescence, but we often see acne persist into adulthood. Acne severity can range from mild clogged pores to deep cysts leading to scarring. The cause can be multifactorial (e.g., genetics, hormones, skin care, diet, medications, etc.). Dermatologists commonly turn to topical retinoid creams, topical antibiotic creams, oral antibiotics, and isotretinoin as treatment options.
Three new topical medications for acne
Over the last year, three new topical medications have appeared on the market for treatment of acne and have provided our patients with additional options.
A cream with an innovative treatment mechanism for hormonal acne: Winlevi, topical clascaterone 1% cream, is a "soft" androgen hormone blocker used to treat acne in females and males, 12 years or older. Hormones can flare acne on the skin. Some birth control pills can help and for years dermatologists have used oral spironolactone off label for hormonal acne. With Winlevi, we now have an FDA-approved topical medication that targets the effects of hormones causing acne in the skin. The novel medication can be applied twice a day and the pilot studies (1) showed improvement in clogged pores and inflammatory acne.
A topical antibiotic for mild inflammatory acne: Amzeeq, topical minocycline 4% foam, is indicated for treatment of inflammatory lesions of non-nodular moderate to severe acne in patients 9 years of age and older. We have used oral minocycline for years for acne as a highly effective treatment. With Amzeeq, however, we now can offer a topical option to patients with milder inflammatory acne, or for those patients wanting to avoid oral antibiotics initially or get off them. The medication targets the skin directly and systemic absorption of the medication is very low. In three pivotal studies (2), there was a 43-54% reduction in inflammatory lesions compared to baseline at week 12.
A different, more tolerable retinoid: Aklief, topical trifarotene 0.005% cream, is a new fourth-generation retinoid approved for treatment of acne in patients 9 years of age and older on the face and trunk. This medication is different compared to other retinoids, such as tretinoin, because it works specifically to target the retinoic acid receptor (RAR) gamma. RAR – gamma is the most prevalent receptor in the skin. Retinoids are classically drying and irritating, and this unique property makes Aklief more tolerable. In two pivotal studies (3), there was improvement of roughly 50-60% of total lesions compared to baseline at week 12.
If you are suffering from acne and want to find out if you are a candidate for the newest topical treatment options available, please schedule an appointment with one of our dermatologists at SkinCare Physicians near Boston.
REFERENCES:
1. Winlevi – FDA approval and research studies
2. Amzeeq – Results of scientific studies
3. Aklief results from pivotal studies
YOU MAY ALSO LIKE:
Can diet affect acne?
What you should know about acne treatments during pregnancy
Teen acne: Myths, facts and solutions