truSculpt iD: A versatile, quick and painless approach to non-surgical fat reduction
truSculpt iD: A versatile, quick and painless approach to non-surgical fat reduction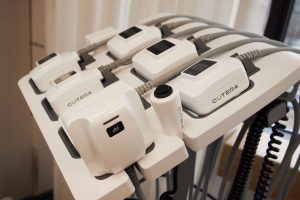 Close to 10 years ago CoolSculpting by Zeltiq revolutionized our approach to body contouring, using a controlled form of cooling to selectively and permanently reduce unwanted areas of local fat. Today, truSculpt iD by Cutera adds a new non-surgical fat reduction procedure to our dermatologists' toolbox.
truSculpt iD is an innovative technique, recently approved by the FDA, that uses radiofrequency to permanently reduce fat. Instead of the selective cold fat damage produced by CoolSculpting, the radiofrequency used by truSculpt iD converts to heat, permanently melting fat in localized areas. Here are the main benefits of the procedure:
Tailored: Because of the shape and size of the truSculpt iD applicators, our dermatologists can further customize our fat reduction treatments to patients' specific body shape.
Versatile: We can treat both large and small areas of unwanted fat. The six handpieces can be applied at once to treat a fairly large area such as the abdomen and flanks quickly. Areas that are too small for the CoolSculpting applicators, such as small bulges over women's and men's love handles, or pockets around the belly button or a scar, do beautifully with truSculpt iD.
Quick: The procedure can be done in a remarkably short, 15-minute treatment session.
Painless with no downtime: truSculpt iD produces results similar to those of CoolSculpting with even less discomfort and virtually no downtime.
Like CoolSculpting, truSculpt iD is not a weight-loss program, but a treatment to reduce localized areas of fat on the abdomen and love handles, inner thighs, arms and axillary puffs. With the addition of truSculpt iD, SkinCare Physicians' dermatologists have a more comprehensive and versatile approach to fat reduction. We can now use either cold or radiofrequency-induced heat to produce permanent, pleasing, and natural results for our patients.