Aesthetic treatments are not just for women
Aesthetic treatments are not just for women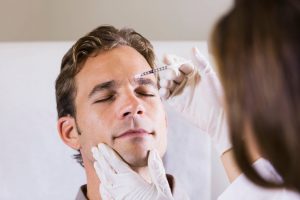 Male interest in aesthetics has been on the rise. In fact, terms like "BroTox" and "Daddy Do-overs" have been popularized and are a testament to the growing number of men seeking cosmetic treatments. A 2017 Dermatology Times article reported there has been a fifty percent increase in the number of neurotoxin injections, a 235% increase in fillers, and a forty percent increase in minimally invasive procedures performed in men from 2006-2016.
Why are more men seeking aesthetic treatments these days?
Men are increasingly hearing about these procedures from social media and through discussions with their spouses, partners and friends. There's a greater awareness that these procedures can help them attain a more youthful appearance without looking overdone or unnatural.
It has also become more socially acceptable to seek aesthetic treatments and to talk about them. People are more apt to speak openly about aesthetic treatments among friends, spouses and work colleagues than they were in the past. As aesthetic treatments become more mainstream, men are understanding that it is okay to care about their skin without feeling vain or less masculine.
Finally, men are learning something that many women have long understood: the better you look, the more confident you feel. This is especially helpful in the workplace. People can speak more effectively if they don't have to worry about flushing, blushing, or excessively sweating during an important meeting or presentation. They are also looking for ways to stay competitive with younger colleagues. Treating frown lines or wrinkles can help one look more rested and relaxed. The prevalence of social media and digital devices have also encouraged both men and women to find ways to look better onscreen and in person.
At SkinCare Physicians we understand both the male and female aesthetic. Whether your goals are to diminish your forehead lines, tighten your facial skin, treat age spots, or shrink your love handles, our dermatologists have options for you.