K.I.S.S. – Anti-aging simplified
K.I.S.S. – Anti-aging simplified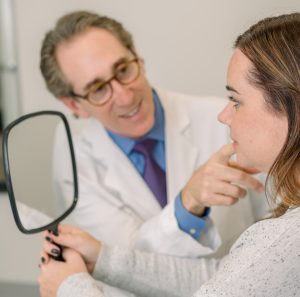 Have you seen friends or celebrities with puffy cheeks and overstuffed lips? Foreheads and eyes that have an odd appearance? Unfortunately, these outcomes are everywhere, but the good news is that they are completely avoidable. Patients and physicians both have a tendency to over-complicate anti-aging treatment, which leads to unnecessary procedures and some weird outcomes. Our approach at SkinCare Physicians is completely different, simplifying the evaluation and implementation of our anti-aging line of action. Let's learn more.
SkinCare Physicians' system follows the K.I.S.S. System: "Keep It Simple, Stupid"! We only need a combination of 4 proven procedures to naturally enhance the appearance of virtually every patient, while eliminating those overdone outcomes. Neuromodulators, fillers, Fraxel and Thermage comprise the quartet of options that drive our superb results.
Neuromodulators
Neuromodulators (Dysport, Botox, Daxxify) have been used as the foundation of many anti-aging strategies for over 20 years. In fact, doctors at SkinCare Physicians were the first in New England to use Botox in the mid 1990s. Neuromodulators help to soften lines of the forehead, glabella (between the eyes), and the crow's feet (around the eyes). We can also use these very precise and effective products to smooth the neck and sharpen the jawline. The key to our success lies in the unique way that we both prepare and deploy neuromodulators. Basically, we do it differently than virtually every other practice in the world, and that is our "secret sauce" for natural results. It enables us to be more precise, more subtle, and more natural. That's K.I.S.S. #1.
Fillers
Fillers (Juvederm, Restylane, RHA/Teoxane) have dramatically enhanced our anti-aging capabilities. Not only can we fill in small lines and wrinkles (eyes, smile lines and lip lines), but we can also shape the cheeks, jawline and temples to create incredible and natural results. The key is our understanding of the underlying anatomy of aging. As we age, all of us lose both fat and bone mass which results in descent and sagging of the face. Carefully placed fillers can subtly and precisely support the underlying structures of the skin, enabling our physicians to create youthful contours. We work closely with our patients to help them determine how much restructuring fits their goal, while ensuring that outcomes remain natural and consistent with patient expectations. That's K.I.S.S. #2.
Fraxel
Fraxel has revolutionized what we can accomplish with skin rejuvenation. This amazing laser helps to improve both skin texture and pigmentation in just a few simple treatments. Incredibly useful on the face, neck, chest and hands, Fraxel gently remodels skin (through collagen and cellular rejuvenation) to make it look smoother and uniform in color and texture, all of which help the skin to be healthier and look younger. Our Fraxel Quick Recovery procedure, what we call FQR, has dramatically advanced our anti-aging capabilities. FQR was conceived and developed at SkinCare Physicians, and combines powerful improvement with gentle recovery lasting just a few days. Only in our office can you experience the innovative FQR procedure. That's K.I.S.S. #3.
Thermage
Thermage for skin tightening was originally developed at SkinCare Physicians in the early 2000s, with the very first treatment in the world performed in our facility. Since then, technological advancements have significantly enhanced what Thermage can do, providing collagen rejuvenation and skin tightening of the face, neck, and even the abdomen. With treatment every 1-2 years, patients experience preventive skin tightening in over 98% of cases, and visible improvement of the face and jawline in over 90% of cases. Thermage is one of the most popular procedures at SkinCare Physicians. It takes less than an hour to perform with zero recovery, and reproducibly works to tighten skin. Our physicians use Thermage as a pivotal tool to "prejuvenate" the skin, helping to prevent aging which in the long term reduces the number of procedures we need to keep you looking your best. That's K.I.S.S. #4!
Rather than throw the proverbial "everything but the kitchen sink" at our patients, we K.I.S.S.! With over 200 years of combined experience, our world-renowned physicians possess a unique and incredibly advanced understanding of the aging process. This wealth of expertise is what uniquely positions SkinCare Physicians to K.I.S.S.
YOU MAY ALSO LIKE:
– Your new BFF in addressing facial aging
– When should I start an anti-aging skin care routine?