Daxxify, the newest wrinkle buster
Daxxify, the newest wrinkle buster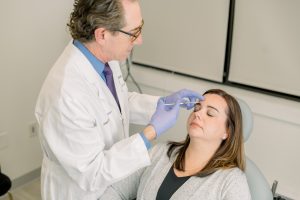 Daxxify is here! The most significant advance in neuromodulators in over a decade has finally arrived at SkinCare Physicians. Botox and Dysport have been at the center of a revolution in wrinkle reduction and aging prevention for over 20 years. They help to soften muscle movement, which in turn reduces wrinkles, improves eyebrow position, and creates a more relaxed appearance.
Daxxify (Daxxi) is the newest generation of neuromodulators, and has the significant advantage of longer lasting results. Much of the original research was performed at SkinCare Physicians and shows that Daxxi can last as long as 6-9 months. This increased longevity will significantly improve convenience and compliance, enabling patients to have more consistent wrinkle reduction throughout the year. With as few as 2 treatments per year, we can deliver the subtle and natural results that our physicians are known for.
Botox and Dysport will remain a central part of our treatment strategy, with Daxxi adding a third option. Our physicians have pioneered the techniques that ensure natural results, lecturing internationally on the distinctive formulas and strategies that make our practice unique. We have all seen over-done or over-frozen results, whether it be in friends or celebrities. Thankfully, those results are completely avoidable with the techniques and skills that our physicians employ. And importantly, at SkinCare Physicians we only have board certified dermatologists performing cosmetic injectable treatments. We take training and skill seriously, and our patients directly benefit.
So ask us about Daxxify and the other subtle treatment options available to help you keep looking your best.