Avéli: A new one-time cellulite treatment
Many women come into our practice during the fall and winter months looking for cellulite treatment options to address dimples or uneven, rippling texture on their thighs and buttocks. While for the longest time most treatments on the market were smoke and mirrors, new procedures have given our patients satisfying results.  Avéli is the latest addition to our cellulite armamentarium.
Cellulite is caused by a combination of fat, dimpling from fibrous bands, and skin laxity. It is primarily the results of genetics and hormones. As a result, its appearance can be difficult to treat. Patients find cellulite frustrating because diet modification and exercise may not help. But for several years now, procedures such as Cellfina and Resonic that target the root cause of dimples have been our go-to options in a cellulite treatment plan. We recently added Avéli which builds on the success of Cellfina.
Avéli is a new minimally invasive cellulite procedure developed at SkinCare Physicians with Revelle Aesthetics. It is a single treatment that is cleared by the FDA to reduce the appearance of cellulite on the buttocks and thighs. This cellulite technology uses "mechanical subcision" like Cellfina, but is more precise. Avéli allows us to identify, confirm, and cut the individual fibrous bands (also known as septa) responsible for cellulite dimples.
Avéli in action
The Avéli device not only hooks and cuts the cellulite bands, but allows us to check that the septum has been released, thus improving the appearance of the dimple.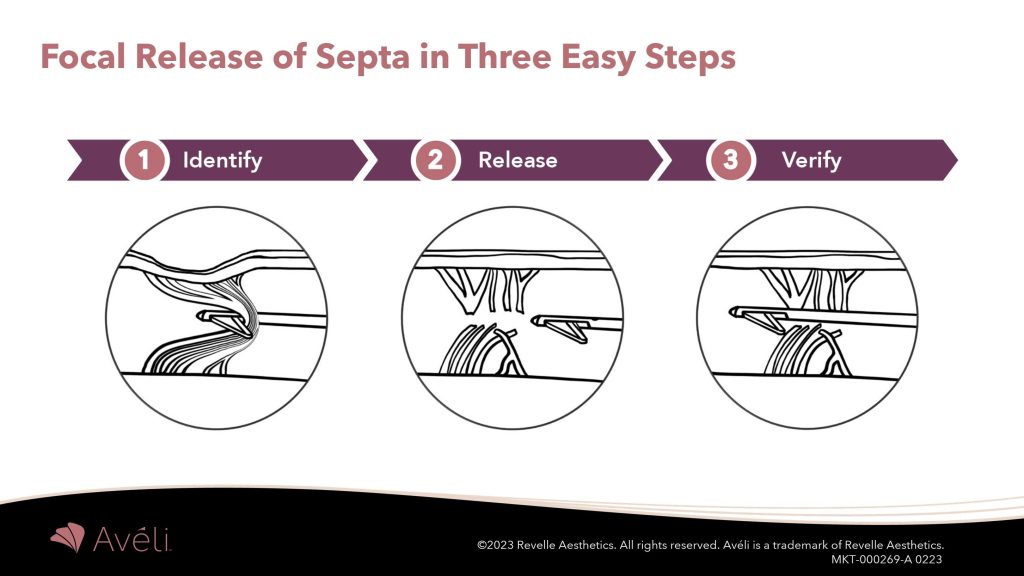 Watch Dr. Kandula as she performs the Avéli procedure on a patient:


Avéli cellulite treatment Q&As
Here are some common questions we receive from our cellulite patients.
Who is a good candidate for Avéli?
Not everyone is a good candidate for Avéli. The device specifically targets dimples, but neither skin laxity (loss of elasticity in the skin), nor fat. The ideal candidate should have a healthy BMI, be in good health, show no signs of infections in the treatment area, and have realistic expectations. For example, if the rippling on a buttock is due to skin laxity, we may propose a different procedure. Body and cellulite treatments sometimes involve a multiple treatment approach. A consultation with one of our cellulite experts will help determine if you are a good candidate and which treatment protocol will work best to achieve your body contouring goals.
How long does the Avéli procedure take?
A typical Avéli procedure will take around an hour, including the local anesthetic and the procedure itself.
What is the cellulite treatment's recovery time?
The treatment areas are anesthetized with a local anesthetic prior to the Avéli procedure. Once the anesthetic wears off, patients may have some tenderness for a few days. We recommend our patients ease back into strenuous exercise after a week and wear a compression garment for at least a week after the procedure. There may be swelling and bruising that could last up to a month.
What results should I expect with Avéli?
Patients can expect to see results one month after the treatment. Most patients notice improved smoothness and reduction in cellulite dimples.
How long do the results last?
The results should be permanent; however, Avéli is a new treatment and long-term results are not available yet.
Before & After Photos of Avéli®
We are excited to offer the brand-new Avéli treatment to our patients. If you have cellulite and are interested in this new procedure, please schedule a consultation with Dr. Kandula or Dr. Kaminer at SkinCare Physicians near Boston.