Love your partner from head to toe: Do a skin cancer screening
Love your partner from head to toe: Do a skin cancer screening
A recent report from the American Cancer Society shows that the death rate from cancer in the U.S. is declining for Americans. This is exciting news! Despite this overall decrease in cancer-related death rates, the number of melanomas continues to rise. And, sadly, the number of melanoma deaths is increasing faster than any other cancer.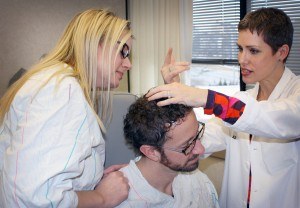 There are some proven, effective ways of preventing melanoma! Early detection techniques and early removal of melanomas are the most effective ways of decreasing this risk. Patients themselves report finding many melanomas on their own skin, by doing a careful skin self-exam (SSE). Melanomas that are found during a SSE are often at an earlier stage, when they are thinner and more easily cured.
One terrific opportunity to decrease the risk of melanoma death is to encourage these skin self-examinations (SSEs). The difficulty is that many parts of the body are impossible to examine on your own and some melanomas can arise on these tricky spots. The top of the head, the back of the ears, the back, the buttocks and the back of the legs are all easily missed on your own. Here's where getting your "special someone" involved can help: this Valentine's Day, take the opportunity to learn to do a skin cancer screening with your partner!
Not only is a skin self-examination with a team approach going to be more thorough and check those problematic spots, it turns out that people who learn to do partner-assisted SSE do them more regularly! Researchers have discovered that couples who learned to check their moles together continued to check more regularly for moles throughout the year. Perhaps learning to do SSE with a partner reinforces the importance of these checks, and also improves self-confidence in examining the skin.
So, this Valentine's Day is not only a great opportunity for you and your partner to learn how to do these skin examinations, but it is also a potentially life-saving habit that could continue throughout the year!
Where to start with a partner skin examination?
First of all, shed most of your clothing! If being unclothed under bright lights with your partner makes you uncomfortable, wear loose clothing that is easily moved aside. Save the mood lighting for later–you want to be able to see the skin clearly! Start from your partner's head and work your way all the way down to their toes, examining every inch of the skin for moles or unusual "growths". If you find something suspicious, make an appointment with your dermatologist for a closer examination.
Check the ABCD's of melanoma
The most important features to look for are the so-called ABCD's of melanoma.
Asymmetry: one half of the mole looks different from the other half.
Border irregularity: the borders look notched or ragged or blurred.
Color changes: there are multiple colors within a single mole, with a mottled appearance.
Diameter: the mole measures more than 6 mm, which is about the size of a pencil eraser.
To learn more about SSE and the ABCD's of melanoma, watch a video and download a mole map at the American Academy of Dermatology web site!
The best way to learn how to do a partner-assisted SSE, though, may be a joint appointment with your dermatologist! Your dermatologist can review the ABCD's with you in person, and show you and your partner what to look for throughout the year. Two heads are better than one when learning a new skill like this!
At SkinCare Physicians, you and your partner can schedule back-to-back appointments year round and be seen together to learn this important skin self-examination skill! Telephone our offices at (617) 731-1600 to schedule your couple screening.
Find Dr. Robin Travers on Google+