Mohs surgery solves the skin cancer dilemma of removing too much or too little
Mohs surgery solves the skin cancer dilemma of removing too much or too little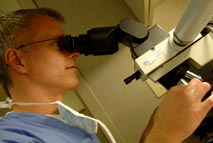 We often hear that the difference between major surgery and minor surgery is if it is happening to you or to someone else. In the case of Mohs surgery for skin cancer, that say should not apply. Here is why…
More than three million people in the United States are diagnosed with skin cancer each year. That is more than all other cancers combined. In fact, one out of every five Americans will develop skin cancer within their lifetime. Fortunately, more than 90% of skin cancers are easily curable. The most common forms of skin cancer are basal cell carcinoma and squamous cell carcinoma. When these occur in areas such as the head, neck, and hands, Mohs surgery is often the treatment of choice to remove them. The basic principle behind the Mohs' technique is to remove the entire skin cancer without taking any more normal skin than is absolutely necessary. Mohs surgery offers the highest cure rate (roughly 99%) of any treatment available. In addition, since Mohs surgery is precisely controlled and removes only the skin cancer, it produces the smallest wound to repair. This allows for the best possible scar given the specific skin cancer.
Basal cell and squamous cell carcinomas are often much larger than they appear at the surface of the skin. The analogy of an iceberg is often used to describe how these skin cancers can grow and extend just beneath completely normal looking skin. Rather than guessing approximately how far these "roots" extend under and around the skin cancer, a microscope is used during the Mohs surgery to trace out and precisely map the exact extent of the tumor. The surgeon may then remove only the cancerous tissue. This prevents either removing too little (leaving tumor behind to come back or recur in the future), or removing too much, and creating a larger than necessary wound. In essence, the best of both worlds is achieved with this technique. The entire skin cancer is removed and as much as possible of the normal skin is preserved.
While the prospect of having any surgery is unnerving, Mohs surgery for selected skin cancers offers a very logical solution. The highly trained and skilled Mohs surgeons and staff at SkinCare Physicians in Boston help guide patients through this procedure every day and achieve outstanding results.