Eight of SkinCare Physicians' doctors made the Boston Magazine's 2012 Top Docs list
Eight of SkinCare Physicians' doctors made the Boston Magazine's 2012 Top Docs list
Once again, SkinCare Physicians tops the list of dermatology practices with most of its physicians named as Top Doctors by Boston Magazine. Over the past decade, many of our practitioners have appeared regularly in this annual list of top physicians.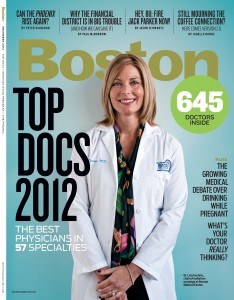 In the December 2012 issue of Boston Magazine, an astounding eight of our physicians were named as top doctors, seven in the dermatology category (Drs. Kenneth Arndt, Jeffrey Dover, Michael Kaminer, Kay Kane, Thomas Rohrer, Jeffrey Sobell, and Robin Travers) and one in  the ophthalmology section (Dr. Katrinka Heher). This makes three years running that seven of our dermatologists have been named in this prestigious report. Amazingly, some of our doctors have appeared on the Best of Boston list for more than a decade!
To identify the Boston area's best physicians, Boston Magazine partners with Castle Connolly Medical Ltd., a healthcare research and information company that evaluates tens of thousands of peer nominated doctors throughout the medical community.
No other dermatology practice in the region can boast this number of outstanding physicians as named by Boston Magazine. SkinCare Physicians strives to be the preeminent dermatology practice in New England, and the number of physicians that appear in the Top Doctors list of Boston Magazine is evidence of our commitment to excellence.
Learn more about our physicians.