SkinCare Physicians achieves maximum term of AAAHC Accreditation
SkinCare Physicians achieves maximum term of AAAHC Accreditation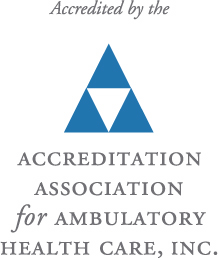 Every three years, SkinCare Physicians (SCP) undergoes a rigorous process of preparing for accreditation by the Accreditation Association for Ambulatory Health Care (AAAHC). AAAHC Accreditation is an external, independent process of evaluating a healthcare organization's policies, procedures, processes and outcomes against nationally-recognized standards. This accreditation is important as health care quality issues are gaining prominence in both public and professional arenas.
In May 2013, following an in-depth, 194 page self-assessment, SCP went through a thorough two day, on-site review by two AAAHC expert surveyors.
The surveyors reviewed every operational area of SCP including:
Rights of Patients
Governance
Credentialing
Administration
Quality of Care
Quality Management and Improvement
Peer Review and Risk Management
Clinical Records
Infection Prevention and Control
Safety
Facilities and Environment
Anesthesia
Surgical Services
Pharmaceutical Services
Pathology and Medical Lab Services
Teaching and Publications
Research Activities
At the end of the on-site survey, the AAAHC surveyors commented on the mutual respect and admiration between the staff and the physicians, and on the evident enjoyment of everyone working at SCP. One of them added: "SkinCare Physicians, Inc.  is a renowned dermatology medical group practice which occupies a spacious, beautiful, state of the art facility, and provides compassionate, warm, friendly environment for its patients while always treating them with the utmost respect and dignity."
On June 26th, we received our results and once again, for the 3rd consecutive survey, SCP received the maximum accreditation term of 3 years with the highest rating of substantial compliance in every standard measured.
We understand that our patients have a choice in where they receive their care. At SkinCare Physicians in Boston, we continuously and diligently work to meet the most rigorous standards to provide the highest quality care possible to our patients and the same high level of quality in our business practices.