SkinCare Physicians' nurse on the frontlines of the pandemic
SkinCare Physicians' nurse on the frontlines of the pandemic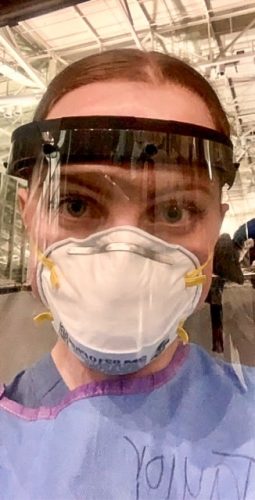 Many of the SkinCare Physicians staff are working from home during this COVID-19 crisis. But Taylor Broderson, RN, has taken a short-term position at the Boston Hope Medical Center, and she took the opportunity to give us some insight about her experience on the frontlines of this pandemic.
Taylor had her first shift at Boston Hope Medical Center as a registered nurse this past week. Boston Hope Medical center is a 1,000-bed field hospital that was built in the Seaport's Convention Center to prepare for an anticipated increase in COVID-19 cases across the city. 500 beds are for post-acute COVID-19 positive individuals, and are being managed by Partners Healthcare. The other 500 beds are for COVID-19 positive individuals who are currently experiencing homelessness or unstable housing. These are being managed by Boston Healthcare for the Homeless. City and state officials are also managing the project. The Army National Guard, BPD, Public Safety, a multitude of medical staff, case managers, janitorial staff, volunteers, and many others, are essential to the operation.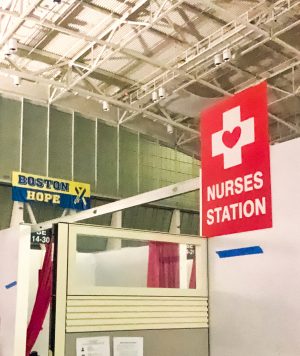 Boston Hope Medical Center is one of many field hospitals being built in the city in response to COVID-19.  Next week, Taylor plans to begin work with Partners Healthcare at the Quality Inn Hotel, located in Revere. This field hospital, also run in conjunction with Boston Healthcare for the Homeless, will be providing alternative safe housing to Revere and Chelsea residents so they can recover from the COVID-19 virus in a post-acute care setting while completing the duration of their quarantine.
Here is what Taylor shared with us:
I am honored to be able to work alongside countless other members of the community in the fight against this global pandemic. I am thankful for the unconditional support of friends, family, coworkers, and strangers.  I am in awe of the individuals who have been working in nursing homes, homeless shelters, hospitals, gas stations, and grocery stores. I am deeply appreciative of those who stay home. USPS, Amazon, and food delivery drivers have become more critical than ever and continue to show up to work. I am overwhelmed by the positivity and kindness I see being spread by so many. 
Lives have been lost, the economic impact is devastating, and the emotional shock sometimes feel too large to conceptualize. Though this all demands acknowledgement and action, it is just as imperative that we choose to also acknowledge the good. Whether it's checking in with those you care about, sewing face masks for people who cannot access one, sending thoughtful gifts to brighten someone's day, staying home and spending time with family, or sending something funny you found on the internet to make a friend laugh; it all matters and it all deserves to be remembered. I for one look forward to the day it is safe again to walk through the doors of SCP and find myself surrounded by the individuals who have provided that light and goodness long before this pandemic, and who continue to do so each day. Until then stay safe, wear your mask and wash your hands!
All of us at SkinCare Physicians are so proud of Taylor, one of the heroes on the frontlines of COVID-19.