Four must do's for a healthy, radiant skin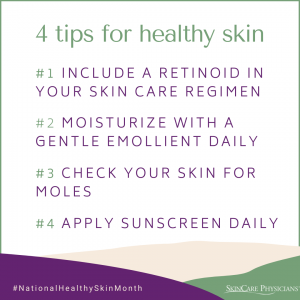 There is no secret to maintaining a healthy skin, I tell my dermatology patients at SkinCare Physicians near Boston. Follow these simple recommendations and you will be on your way to a more radiant look.
#1 Include a retinoid in your skin care regimen
Topical creams containing retinoids, such as tretinoin are one of the most effective products you could apply to prevent fine lines and restore luster to your skin. Available by prescription, your dermatologist can advise you on how to use it while minimizing any flaking or dryness that can occur initially. If you can't tolerate a prescription strength retinoid, start with a moisturizer containing retinol. Neutrogena Rapid Wrinkle Repair line and Skinbetter Science Alpharet Overnight Cream are two examples. And for those who are prone to breaking out periodically, an added bonus with retinoids is that it helps reduce acne break-outs too.
#2 Moisturize with a gentle emollient daily
Moisturizing your skin daily using a gentle emollient will help maintain your natural barrier against irritants that can cause itching, chafing, especially in dryer, colder weather (like now!).  The general rule is the thicker the moisturizer, the more effective it is.  If you don't like ointments, products such as CeraVe and Cetaphil are gentle, non-irritating, and don't leave the skin feel greasy.
#3 Check your skin for moles
Having your skin examined regularly by a dermatologist and identifying suspicious spots early are critical ways to keeping your skin healthy. A total skin examination is especially useful to look at areas you can't see well on yourself, such as the back, back of the legs, and scalp. Early detection is key! I also advise my patients to look at their skin at home once a month to look for anything that has changed or is new.
 #4 Apply sunscreen daily
Sunscreen is an essential part of everyone's daily regimen. Even when it is overcast and gray outside, harmful ultraviolet rays are penetrating the skin causing damage. Look for a broad spectrum sunscreen with an SPF of 30. Reapply it every 2 hours if you are outside for an extended period of time or if you perspire.
So remember, there is no secret recipe to maintain the health and vitality of your skin. It may just take some time to incorporate my advice into your normal routine. But it will be worth it!
Editor's note: This blog was originally published on February 13, 2014.