The truth about SPF labels in sunscreens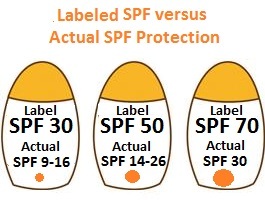 Our patients at SkinCare Physicians near Boston often ask what level of SPF (sun protection factor) in sunscreens is sufficient to reduce the risk of photodamage and skin cancer.  It turns out that the answer is somewhat confusing.
In order for sunscreen to perform maximally, applying a generous quantity is required.  One ounce, or the equivalent of one shot glass amount, is needed to cover the exposed areas of the body for the average adult.  When used in this manner, the American Academy of Dermatology recommends using a sunscreen of at least SPF 30 for planned sun exposures.   However, most people apply only 25-50% of the recommended quantity and thus may not be receiving adequate protection.
A recent study, published in the Journal of the American Academy of Dermatology, analyzed the difference between the labeled SPF values and the actual SPF protection achieved when applied in amounts typically used by consumers.  The analysis showed SPF 30 labeled sunscreens, when applied less densely, provides an actual protection between only SPF 9-16.  SPF 50 sunscreens were still inadequate offering actual SPF levels between 14-26.  Only sunscreens labeled SPF 70 and higher provided a true protection of at least SPF 30.
So, what is the answer to this question?  Even though the goal is SPF 30 protection, it likely requires using a sunscreen of at least SPF 70 to achieve it.
Related blog: Find the right sunscreen for your skin now!