An outstanding team led by Top Doctors
An outstanding team led by Top Doctors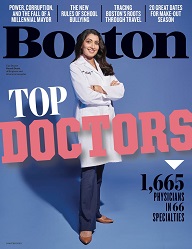 Boston Magazine has released its annual "Top Doctors" list for 2020 and, yet again, nearly a quarter of the best dermatologists in the Boston area are right here at SkinCare Physicians. Eight of our dermatologists are acknowledged, and our oculoplastic surgeon is recognized as a top ophthalmologist. All of them are dedicated to their patients, and devote their time and talents to advance specific areas of dermatology and skin care.
We are delighted that our physicians have been selected by their peers as Top Doctors a combined 80 times over the past 10 years. We are also proud of SkinCare Physicians' entire team which makes this recognition possible. Together, we work toward the common goal of providing exceptional care to our patients.
Congratulations to all the physicians who were selected and to the staff who support them!
View the list of Boston Top Dermatologists in 2020.