SkinCare Aesthetics™ Program
Along with providing the world's finest cosmetic and laser surgery, dermatology, and dermatologic surgery services in Boston, SkinCare Physicians is pleased to offer a comprehensive aesthetic program at its Advanced Dermatology Spa™. Under the guidance of our world-renowned physicians, our aestheticians will evaluate your skin and develop a customized program for treatment, enhancement, and maintenance of your skin.
Our aestheticians are ready to welcome you back in our Advanced Dermatology Spa™. We invite you to watch what they are doing to keep you safe during the pandemic.

Our team of licensed aestheticians has been hand-picked and trained by our physicians, and possess special skills that will enable them to fully understand your skin and work with you to improve its look and feel. Our aestheticians perform skin care treatments that incorporate the most advanced techniques that are available in the aesthetic industry today. The goal of treatment is to improve the appearance of your skin by focusing on your concerns and analyzing any problems, along with utilizing the physician's expertise in skin disorders and general skin care.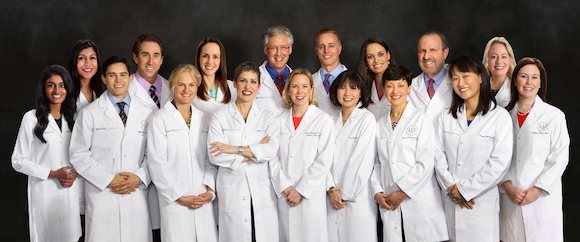 Meet Our Physicians
Services We Offer
Our specialized treatments are consistently updated to reflect advances in dermatology and aesthetic care that our physicians have helped to pioneer. Some of the cutting-edge methods we employ are unique to our SkinCare Aesthetics Program, and include:
Glycolic Peels: Sugar-based chemical peels that soften skin, refine lines, improve skin texture, revitalize and rejuvenates the skin. Great for hyperpigmentation and anti-aging benefits. Our 30 minute Express peel is a patient favorite!
Enzyme Peels: Gentle exfoliation using fruit-based products to result in improved skin texture, creating a vibrant appearance.
Vitalize Peel® & Rejuvenize Peel™: Chemical peels that utilize a specific formulation (AHA, BHA, resorcinol & retinoic acid) which encourages the exfoliation of the epidermis to improve the appearance of fine lines, reduce pigmentation, and improve texture.
Medical Cleansing: A thorough deep pore cleansing of the face tailored to your specific skin type and condition. This treatment includes cleansing, exfoliation, extractions (if needed) and a customized mask.
Clear + Brilliant™:: This gentle fractional laser device refreshes your skin from the inside out and helps to reduce imperfections and sun damage. The Clear + Brilliant™ Original treatment works to visibly illuminate the skin, improve tone and texture and reduce appearance of pores, while the Clear + Brilliant™ Perméa treatment helps to diminish skin pigmentation and discoloration. Our new, highly effective Clear + Brilliant™ Fusion combines the two previous treatments to improve skin tone, texture and color all at once, in one single appointment. These treatments are a patient favorite!
Dermaplaning: A manual skin exfoliation technique that gently removes dead surface debris, leaving the skin smooth and vibrant. Dermaplaning is one of these facial treatments that provide instant gratification without the use of chemicals.
HydraFacial: A non-irritating treatment that combines cleansing, extraction and hydration of the skin simultaneously. While soothing and moisturizing, HydraFacial delivers instant, noticeable results with no downtime or discomfort. It can be tailored to meet the specific needs of all skin types and can be given in as little as 30 minutes.
Isolaz®: This breakthrough anti-acne technology utilizes pulsed light concurrently with vacuum pressure to mechanically clear clogged pores and destroy acne causing bacteria with light. The treatments are painless and completely non-invasive, and are usually used in combination with more traditional acne treatments prescribed by our dermatologists.
Microdermabrasion: A mechanical exfoliation technique that gently removes the dead and rough portions of the uppermost layers of the skin, decreases areas of irregular pigmentation, diminishes fine lines, brightens skin and returns luster to dull skin.
The regimen for each skin care treatment is designed to focus on an individual's specific skin care needs. Our aestheticians will thoroughly evaluate you during your visit and develop a treatment plan. The aesthetician will also review your current product routine and develop a home SkinCare Program that works in conjunction with our professional office-based services. Our treatments range from one half hour to one hour, and are recommended at specific intervals to achieve the best results and to maintain a healthy lifelong complexion. Please ask one of our staff members about the SkinCare Aesthetics Program at SkinCare Physicians. Our highly acclaimed staff will guide and help you select the program that is right for you!
---
To get started, request a consultation online to come visit with us or call (617) 731-1600 to schedule your appointment. Our highly acclaimed staff will guide and help you select the program that is right for you!