Why we LOVE deep Vitalize Peels at SkinCare Aesthetics
Why we LOVE deep Vitalize Peels at SkinCare Aesthetics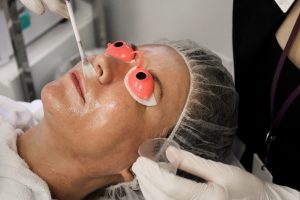 Deep level chemical peels can sound scary and intimidating. At SkinCare Physicians' Advanced Dermatology Spa™, our aestheticians work directly with our physicians to ensure that they have the highest level of training in order to provide our patients with these exciting and result-driven treatments. If you are thinking of going deeper than your average facial peel and want to achieve that dramatic "before & after photo" effect, our aestheticians are ready for you. Our deeper Vitalize Peel can help diminish hyperpigmentation and acne scars, smooth skin texture, and achieve an overall brightening/tightening of the skin.
We recommend that first-time patients come in for a 50-minute consultation. This initial visit allows our aestheticians to assess your skin needs and discuss your skin care goals. They will prep your skin, do a deep-pore facial or HydraFacial, in order to remove dead surface skin, and will go over what to expect from a Vitalize peel. Peeling will generally start between 48 to 72 hours after the procedure, and can last between 2 and 5 days. Hence, the importance of reviewing your schedule and deciding on the best day to do the peel. For example, our aesthetician Meredith's favorite day to carry out a deep Vitalize Peel is Wednesday or Thursday. The major peeling days will occur from Friday to Sunday, and one can be back to work on Monday with only mild flaking and pinkness.
Peeling stages following a deep Vitalize peel:

For best outcomes, the Vitalize Peel is applied every 3 to 4 weeks until desired results are achieved. Improvements are cumulative and maximum benefits are seen with a series of three or more peels.
Here at SkinCare Physicians' Advanced Dermatology Spa™, the "Peel Season" is from October to April. We recommend that all of our patients come in for at least one Vitalize Peel, which will help us create optimal results for subsequent at-home skin regimens or in-office laser treatments.
For a glimpse into one of these Vitalize peels, click here.
——
Recommendations
Here are recommendations from SkinMedica the manufacturer of Vitalize Peel
One week before peel, no use of:
Electrolysis, waxing, depilatory creams, laser hair removal
Retin-A, Renova, Differin, Tazorac, Alpha Hydroxy, Beta Hydroxy Benzoyl Peroxide
Contraindications:
Active cold sores, herpes simplex or warts
Sunburnt area
Dermatitis and inflammatory rosacea
Accutane use within last year
History of recent Chemotherapy
Allergic reactions from Aspirin; presence of rashes
Pregnancy
Patients with vitiligo
History of autoimmune disease (rheumatoid arthritis, psoriasis, lupus, multiple sclerosis, etc.)
Patients who have had medical and/or cosmetic facial treatments or procedures should wait until skin sensitivity completely resolves before receiving treatment
Patients who have had toxin injections should wait at least a week until full effect of their treatment is seen before receiving treatment