Advanced Dermatology Spa™: A unique concept in skin care
Advanced Dermatology Spa™: A unique concept in skin care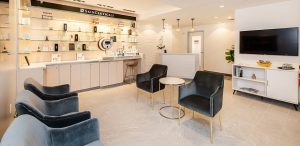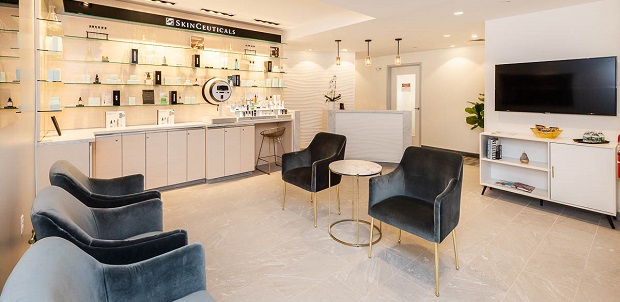 SkinCare Physicians' Advanced Dermatology Spa™ is now a reality.  Located on the 2nd floor in Suite 200 this brand new space combines the luxury of a spa with state-of-the-art technology, and the knowledge and expertise of our dermatologists.  So why has SkinCare Physicians developed the Advanced Dermatology Spa™?  We have created this unique environment in response to the expectations and needs of our patients who longed for the relaxing and luxurious experience of a spa-like treatment in a medical setting.
Our Advanced Dermatology Spa™ has three highly-trained aestheticians providing treatments such as medical cleansings, peels, Hydrafacials, and Clear + Brilliant treatments. It also has hand-picked, skilled nurses who perform procedures such as CoolSculpting®, Thermage®, miraDry®, laser hair removal, amongst many other. Patients having the latter procedures will first have a consultation with one of our expert dermatologists who will evaluate their skin and help develop the best plan to meet their goals. Our entire staff is also highly knowledgeable and trained in cosmeceuticals which complement our in-office treatments. They will review your skin care routines and develop a regimen that is optimal for your skin.  We have worked closely with our partners in the cosmeceutical industry and procure in our Advanced Dermatology Spa™ our favorite skin care products from brands such as SkinCeuticals, SkinMedica, SkinBetter Science, SkinCare Prescription, Dermalogica, EltaMD, and La Roche-Posay.
In addition to having many options for skin care products, we also have one of the first Custom D.O.S.E machines in the country.  Our dermatologists at SkinCare Physicians were instrumental in the development of this cutting-edge device.  The Custom D.O.S.E machine uses state-of-the-art technology and science-backed ingredients allowing our aestheticians to make a customized serum with high-potency ingredients within 10 minutes.  The serum combines unique ingredients at different strengths to make a custom product specifically formulated for your skin type.  The formulation can be adjusted every three months based on your skin's progress to reach your ultimate goals.
It is this combination of expertise in skin care products, aesthetician services, and highest level of skilled nursing services that makes our Advanced Dermatology Spa™ unique and the only one like it in the country.  Come visit our new spa on the 2nd floor and experience the difference. You will be surprised of what you can do to improve your skin's overall health and appearance.