Med Spa vs. Board Certified Dermatologist: What's the difference when it comes to cosmetic procedures?
Med Spa vs. Board Certified Dermatologist: What's the difference when it comes to cosmetic procedures?
Co-authors: Dr. Kenneth Arndt and Dr. Jessica Labadie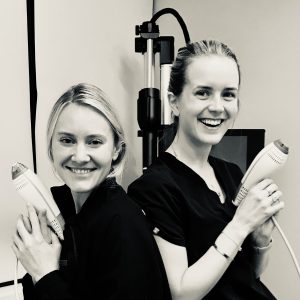 We get this question a lot… from patients, friends and even our own family members. As board-certified dermatologists, we may be biased, but the truth is, there is a huge difference between getting elective cosmetic treatments at a med spa versus a dermatology office, especially when it comes to cosmetic procedures like neurotoxins (e.g., Botox, Dysport), fillers (e.g., Restylane, Juvederm) and laser procedures (e.g., Fraxel). It's important to be aware of the differences, in order to make the right decision when it comes to your skin!
What does it mean to be a board-certified dermatologist?
A board-certified dermatologist at a minimum has done the following:
Completed 12 years of training
– 4 years of college
– 4 years of medical school
– 4 years of dermatology residency
Passed yearly rigorous exams in dermatology
Made a commitment to keep up on the latest advances in dermatology
Some dermatologists elect to complete an additional year or years of fellowship to gain further expertise in areas such as cosmetic and laser surgery, and skin cancer surgery.
To ensure your dermatologist is board-certified, you can either: 1) check on their website or at the American Board of Dermatology, 2) look for the letters "FAAD" in their credentials or 3) just ask them! Being "board-certified" means your doctor has not only passed a standardized certifying exam, but also keeps up with medical advancements and best practices.
What is a Med Spa?
A medical spa or "med spa" is a facility that is supervised by a medical specialist (usually a health care provider with a MD or RN degree) and offers traditional day spa experiences (e.g., facials, dermaplaning, peels) mixed with treatments that one would find in a medical facility (e.g., lasers and injections). The types of treatments that are offered at med spas can differ by state and local governing bodies. In Massachusetts, med spas can offer many of the same treatments that one might find in a dermatology office, like neurotoxins, fillers and lasers. Usually, treatments in med spas cost (slightly) less compared to the same treatments offered at dermatology offices. This "discount" is often what draws patients to seek out treatments at med spa facilities over doctor's offices. But beware, treatments are rarely done by a board-certified dermatologist at these locations.
Why is this distinction important?
Because it is your face we are talking about! Even though many cosmetic procedures are touted as being "minimally invasive", in actuality many risks, some very serious, come with these "low risk" procedures. With neurotoxin procedures (like Botox or Dysport), there is always a risk of injecting the wrong muscle resulting in weakening the wrong muscles of the face. With fillers, there is a risk of injecting the material into an artery which could result in significant unwanted side effects. With lasers, light and energy sources, it's important to go to someone who does not take a cookie-cutter approach to treatment, but rather someone who is experienced in providing personalized treatments based on your skin type, condition, and desired outcome. Remember, injections and lasers are medical procedures. At SkinCare Physicians, we see many patients seeking a second opinion or consultation to help fix a complication that has occurred from treatment(s) received at a medical spa.
So, should I never visit a Med Spa?
Not at all! Actually, we have a med spa at SkinCare Physicians, the Advanced Dermatology Spa. A medical spa that is appropriately supervised by trained dermatologists and staffed by properly trained health care professionals is incredible for facials, eyelash therapies, dermaplaning, eyebrow micro-blading, extractions, some basic energy-device treatments, and chemical peels. Medical spas may have providers that can meet many of your cosmetic needs. However, regarding initial consultations, medication prescriptions, diagnosis of specific skin conditions, management of underlying cosmetic concerns, and most importantly, administration of high-risk treatments (like injections and laser procedures), see a board-certified dermatologist.
Bottom line?
When in doubt, it is best to start out by visiting a dermatology office for your skin care concerns. Then, based on your skin care objectives and the underlying cosmetic issues you are hoping to address, your dermatologist can help steer you in the right direction in terms of treatment options. At SkinCare Physicians, we make sure to consider your cosmetic concerns, underlying skin type, as well as your wallet when constructing your personalized skin care plan. Remember it's your health and face we are talking about—there's too much at stake!