What is microneedling and why is it so useful
What is microneedling and why is it so useful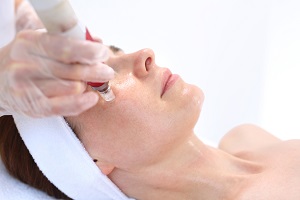 Microneedling has been around for over 2 decades, but only recently has there been sufficient data to make it clear that it actually is a useful procedure to improve wrinkles and scars. Learn from a renowned Boston dermatologist why having your face poked with hundreds of tiny needles improve its appearance.
The premise behind microneedling
It was originally postulated that inducing micro wounds to the skin would initiate healing and encourage connective tissue augmentation. Others later described a similar method, inserting needles parallel to the skin, as "percutaneous collagen induction".  Indeed, after penetration of these small needles into skin, a wound healing cascade is initiated.  This starts with mild inflammation and release of growth factors, followed shortly by proliferation and the initiation of collagen production and finally, remodeling, which goes on for many months.
How Microneedling works
Microneedling uses pen-shaped roller devices armed with very fine needles which make miniscule evenly-spaced punctures in the skin. These tiny wounds sometimes allow a small pinprick of blood to rise to the surface. Microneedling is a type of fractional treatment, in which only a fraction of the surface of the skin is affected, leaving normal skin surrounding each microwound, hence the rapid healing and little downtime.  The procedure is associated with very few adverse side effects compared to some other therapies, is helpful and well tolerated by skin of any color.  Its principal use has been for the treatment of fine lines and wrinkles, particularly those surrounding the mouth.  It is also helpful for thin scars on the face, such as acne scarring.  It has potential use for some pigmentation disorders such as melasma and for stretch marks.
Going a step further with microneedling
When needles penetrate through the skin they create small holes known as microconduits. If substances are applied to the skin right away they then can penetrate through the otherwise impermeable outer layers of the skin to induce useful effects.  If some soft tissue augmentation agents or fillers are applied immediately after microneedling, they can filter through the channels leading to diffuse induction of collagen and elastic formation and dimunition of lines, wrinkles and scarring.  Platelet-rich plasma (PRP) can be instilled into the skin in this fashion.  As well, if photosensitizing chemicals are applied after microneedling and the skin is later irradiated with relevant wavelengths of light, precancerous lesions such as actinic keratoses can be successfully treated.  This represents a benign way of penetrating through the tough epidermis, but there is a caution: applying potentially toxic substances to microneedled skin can lead to systemic absorption, as well as adverse and allergic reactions, so it is important to use only agents specifically advised for treatment.
From at-home to in-office devices
There are many microneedling devices available. While home devices are handheld, cylindrical rollers with multiple arrays of needles, most devices used in physicians' offices are battery or electrically operated units with up to almost 200 needles.  The tips of these microneedles are the same size as very small needles used for injection into the skin.  The depth of injection may be from tenths of a millimeter up to 3 millimeters.
What to expect
Microneedling treatments are safe and well tolerated by all skin phototypes. The procedure is uncomfortable, so a topical anesthetic is applied for 20-30 minutes prior to treatment.  Following the procedure there is transient redness and occasionally a bit of swelling.  The redness usually lasts 1 to 3 days.
Microneedling is relatively inexpensive and can be performed at the same time as other facial treatments, such as botulinum toxins, fillers, peels or dermatologic lasers. It is important to understand that microneedling is not a "quick fix".  Most people need a series of treatments, typically at least 2-3, but potentially as many as 6 usually spaced 4-6 weeks apart.  Microneedling won't likely produce dramatic results, but mild to moderate improvement that will appear slowly.  It is an effective treatment for a variety of textural abnormalities and for all skin types.  Benefits can last up to 12 months and when used synergistically along with other treatments it provides a variety of useful approaches to treatment.
___
You might also like:
– Exciting new microneedling skin treatment at SkinCare Physicians
– Everything you need to know about lip rejuvenation