The CoolSculpting journey at SkinCare Physicians
The CoolSculpting journey at SkinCare Physicians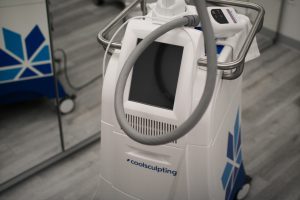 From guiding the research on the original device to performing nearly 10,000 treatments over the past 10 years.
SkinCare Physicians' dermatologists have been at the forefront of the most exciting development in noninvasive body contouring. Invented in Boston in the Department of Dermatology at Harvard Medical School, CoolSculpting- using cold to selectively eliminate unwanted fat- was pioneered at SkinCare Physicians where the national FDA approval trials were directed and performed. And since its approval, our physicians have continuously been involved in perfecting the technique. Ten years later, nearly 10,000 treatments have been performed at SkinCare Physicians by our expert nursing team in conjunction with our dermatologists.
Now that CoolSculpting is more widely available, what makes SkinCare Physicians stand above all others?
Not only was the original R&D performed at our practice, but we continue to perform essential studies to enhance and perfect the technology, and lower side-effects.
Several of our physicians are members of CoolSculpting's Medical Advisory Board which helps to guide the company in many aspects of development.
All the procedures are performed by highly skilled registered nurses under the direct supervision of our board-certified dermatologists. Physicians are best suited to help patients decide if CoolSculpting is the right procedure, and to optimize the outcome.
The nurses giving the treatments have received advanced training at CoolUniversity and are certified. 13 of our nurses have attended CoolUniversity.
Applicators that fit small, medium and large areas are available so that we can treat virtually every area of the body from the neck to bra fat, excessive breast tissue in men, all aspects of the belly and flanks, the hips, thighs and even the knees.
Our ability to perform DualSculpting with several of the applicators enables us to provide patients with the fastest and most customizable treatment plans available.
We have been treating patients for over 10 years – since September of 2009.
Over 9,700 CoolSculpting procedures have been performed at SkinCare Physicians so far.
Why go anywhere other than SkinCare Physicians? Book your consultation today to find out if CoolSculpting is the right body contouring treatment for you.
Related blog posts: